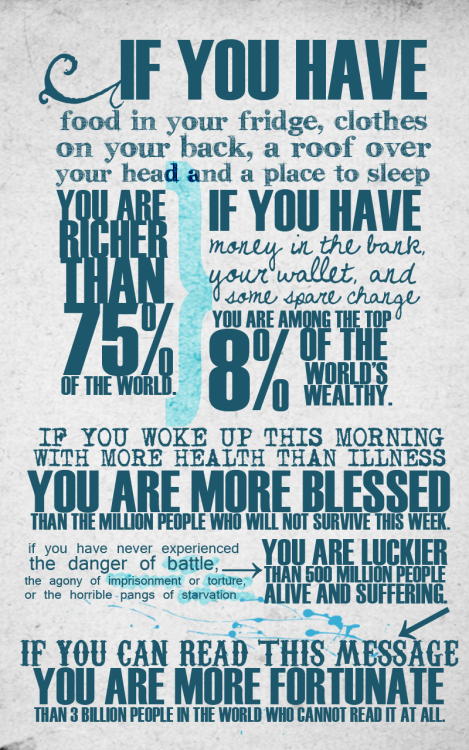 As I've gotten older, I've been aware of how much better I have gotten at 'seeing the bigger picture'. Which is why, when faced with a problem in recent years, I've had a little whinge but focused on my sense of perspective (ie, the things I do have/experience, in comparison to so many other people throughout the world, as exemplified in the picture above). At the end of each year I like to reflect on the things I've been grateful for. This year has been harder for me than most, due to a myriad of reasons, so I've decided to write my things down, so that I have them on the record. Just as a little reminder of how (hashtag) blessed I really am.
Living in Australia: Land of perpetual sunshine, democracy, great freedoms, medicare, mostly friendly people, Patties sausage rolls, and yes, even some imperfections that give us something to strive towards and work for.
My own place, with a red door and gorgeous little reading room, and a pinterest-y kitchen with a 90cm oven perfect for baking in.
Turning 30: And the contentment, and lessons, that come with hindsight.
My health: I've had a few minor hiccups this year, and will probably have to operate on my sinuses in 2017 after years of delaying it, but my health is something I've learned not to take for granted.
My loved ones: My husband, my family, my friends, even acquaintances or social media friends. A new nephew. A Godson. Part and parcel with age is that some friendships change or fall away completely. While that can be sad, you're left with people who really love you. This year I've become aware of who those people are, and that's a blessing in and of itself.
Bookish Fan Mail: This year I got dozens of emails and even hand-written notes from teenagers who love my work. One girl, the sole hijabi in her grade, told me that my novels give her 'solace and peace'. It warmed my heart.
Little things: A mid-week escape to the Blue Mountains. Trying Kale for the first time and deciding it was actually quite good. Discovering that Brussel Sprouts taste good baked with some coconut oil and sumac and cumin sprinkled on top. Getting a delivery of French pastries and pink flowers from a friend who just wanted to tell me I was loved. Finding my Teas after many trials and errors (Jardin Bleu by Laduree and Twinnings Apple and Ginger, and Peppermint if I am just out of it). New Instagram accounts to follow. Running. Fresh ideas. Walking around the City. Dancing to songs that were big in High School at bars in the Rocks. Fabulous additions to my wardrobe. Finding a good facialist. Saying No for the first time. New books for my shelves, and new authors to love. Discovering that wine is actually OK. New health bloggers to follow, whose recipes don't involve elusive ingredients but things I can actually find in Coles. Trips to the farmer's markets. New favourite restaurants. Learning what looks good on me. Just little things.
So many speaking engagements: My busiest year yet – with so many grades, so many schools, so many events all over Sydney. Thank you to the teachers and librarians who have supported my work this year.
Inspiring colleagues: The #Loveozya movement, its readers and supporters, and the authors who I'm delighted to write alongside and share platforms with (especially Kirsty Eagar, Justine Larbalestier, Gabrielle Tozer, Tara Eglington, Melina Marchetta, Randa Abdel-Fattah, Erin Gough and many, many, MANY others). And my mentor, Rachel Hills, for becoming a friend.
Kicking some career goals: Things I never imagined and things I never shared, things that I stored in the depths of my heart so I can remember them at my lowest moments. Even teaching at a university and being around so many young and vibrant people whose energy was wonderful to be around.
My girl: Who reminds me of love and reasons for living.
Marie Kondo: My sister-in-law lent me her book on tidying up. I haven't finished it, but just having it in the house has made me feel infinitely lighter, and made my decluttering more successful.
Rediscovering Google Keep and Pinterest: And being much more organised and inspired as a result.
So many French events in Sydney: From So Frenchy So Chic to the Bleu Blanc Rouge Festival and many other French dinners and weekend festivals in between, just having a chance to experience France from home with my friend Lauren in tow has done wonders for my wanderlust.
Online shopping: I know this is so shallow, but this year I've enjoyed French mustard and NYC deli pickles; bought sparkly shoes, out-of-print books, and a Chloe bag; and donated some vegetable seeds, a goat and a chicken to needy families via World Vision. The internet allows me to indulge, and I am guilty as charged!
The promise of up: I love the potential that comes with a new year, and that things could always go up from wherever you are in an old one. While I am not writing anything new, I am working on my self in 2017. I'm planning to cut out refined sugar in January (I've even written up meal plans to be prepared), I'm taking a long-awaited holiday and I intend on being less attached to my phone. Time will tell if I succeed.
Wishing you all an excellent Christmas and New Year. Hope you finish 2016 on a high, and hope 2017 brings with it so much peace, promise and joy.