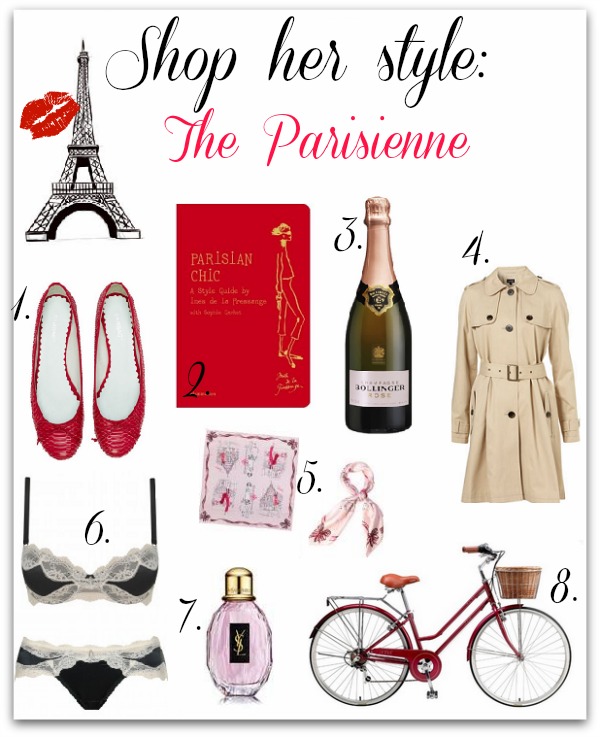 I admire Parisian women just as much as I adore Paris. They're so sophisticated and nonchalant and classic. But what gives them that appeal, that effortless amazingness? I did my research to find out…
Invest in the wardrobe essentials (and never be lost for what to wear): A while before I went overseas, I posted a little titbit I discovered about Coco Chanel on my facebook page. Apparently when she died, there were only three complete outfits in her wardrobe. Her sentiments are probably best echoed by the Paris-based Australian illustrator Kerrie Hess, whose book, Shoestring Chic is filled with 101 tips on living fabulously on a budget when she writes about the controlled selection in a Parisian women's closet: "The Parisian woman might end up rehashing the same look many times, but the result will always be chic… Edit your wardrobe like a Parisian woman would, and you will only have your absolute best choices left – and probably a little more money to spend more item." Hess is not the only Australian/American/British woman who has documented this little fact, and she won't be the last. Parisian women follow the quality not quantity rule, and they also know the virtues of a good tailor where their wardrobe is concerned.  So what are some of the Parisian women essentials? Invest in a trench coat, ballet flats, Breton shirt, cigarette pants or slim jeans, a fabulous handbag (even as simple as a Longchamp Le Pliage tote, knotted with a scarf around its tan leather straps), simple jewellery (great earrings and a classic watch). Don't forget a silk scarf that you can wear in multiple ways (around your head, ponytail, bag, neck etc), and classic shirts and wool or cashmere sweaters. Go light on the logo where these are concerned. And for evening – a black cocktail dress, vintage clutch purse, classic pumps/heels, some lovely, classic jewels and perhaps a shrug or capelet.
Thou shall not forget the power of lingerie: Do you know that Parisian department stores boast some of the largest floors dedicated to lingerie in the whole world? Parisian women understand that being chic starts underneath, somewhere only you (and your love, not that he matters) know about. Somehow being well-dressed underneath your fashionable gear adds a sense of luxury to your sense of being.  In her memoir Paris in Love, Eloisa James expressed a reawakening when she abandoned her trusted cottons for "delicious delightful accoutrements" for her "own appreciation and pleasure". Apparently the gorgeous, elaborate lingerie drew her eyes away from her imperfections, and considering the time and energy we spend hating on our bodies, this might just be the way to go.
Food is something to be relished, not feared:  Parisian women savour their food. They go out to lunch, order what they want and ENJOY it. And, in fabulous demonstrations of self-control that some of us can only aspire to, can (and will) leave some on a plate. They eat their daily bread – one of my favourite visions in Paris is seeing people walk home with a baguette under their arm, ready to enjoy with their dinner. French people eat bread with everything, which makes me think that our attitude to meal times is all wrong. No matter what they're eating, they'll make a meal of it, wine included. As Elizabeth Bard writes in Lunch in Paris, the "French long ago mastered the art of serving salad so it does not feel like punishment." I think Western women can really learn a thing or two about this – and we can start by taking our lunch breaks away from our desks, even if it means sitting alone in cafe. See point number 4 to understand why this won't matter.
Attitude is everything: Parisian women are known for their je ne sais quoi; a wonderful effortlessness that I see as an indifference to our cumbersome things. This is what makes them so powerful to me. French women don't care what you think, though they will behave the 'proper' way. They don't fret about having it all, they're always dignified. Parisian women are big on how they carry themselves. They're sexy without revealing too much – not just in their dress sense. They're not self-conscious; in fact they have a blatantly secure sense of self. They don't compromise who they are. The age gracefully, they embrace themselves no matter what stage of life they're at. They have flair. They walk properly, back straight, not with the weight of the world on their shoulders. What has become of the rest of us? Sometimes it's wonderful to be a little self-possessed.
Beauty is a necessity: In her book Entre Nous: A woman's guide to finding her inner French girl, Debra Ollivier describes the Parisian woman's attitude to her skin as practical and pristine. They treat it –cleansing, steaming, scrubbing, peeling – on a regular basis, likening their visits to the Institute de Beaute to visits to the dentist. Ollivier describes it as a genetic predisposition – French women have always been known to take care of themselves, plus they're surrounded by the best and most famous creams and products. A "French girl grows up knowing the physical and emotional value of unfettered, ritualised bodycare" – her look is not a chore, she invests her time into her most important accessory, and doesn't compromise on it. And another thing: Parisian women, no matter what they're doing, always look good because they're always well-groomed. Tidy hair, clean soft hands, nails hat are just the right length, with no chipped polish in sight. And their signature scent. They know all about scent and sensuality. For wonderful French girl beauty, check out these posts by fellow Francophile, beauty extraordinaire and Primped Editor Katrina Lawrence here and here.
Exercise is in doing: I rarely notice women running past me in Paris, arms powering them through whatever training regimen they're putting themselves on that week. No weights in arms, no tracksuit pants and puffy, sweaty red faces. Maybe it's because I'm too busy staring into shop windows or ogling beautiful buildings, or maybe because they know that they're exercising by getting around, doing their everyday things. Riding their bikes. Walking to and from the metro, through the weekend Marché, up the flights of stairs to their apartments, shopping in hand. This is not to say that exercise is not good, but that it shouldn't have to be a chore – it can be incidental activity as you go about your day.
Always add daily doses of luxe:  Another thing I love about Parisian women. They don't save their best 'for a better occasion'. What's a better occasion than right now? Parisian women buy fresh flowers, they carry their good handbag, and they ride their bikes in their nice pants. They buy good cheeses at the weekend farmer's market, and drink good wine. They use their special perfume. They don't scrimp on details, and they'll wear chain-store clothes with quality shoes, classic jewellery and an Hermes bag. Parisian women always make an effort. They don't need to chase Aphrodite, because they live her life every single day. As Ollivier writes, "The French girl understands that luxury is not about glamour. It's about beauty in ordinary life. It's about great power in small things". It is quite literally in romancing your everyday, and chasing aphrodite.
THE PARISIENNE – SHOP HER STYLE:
7. YSL Parisienne*
*Prices vary by retailer.