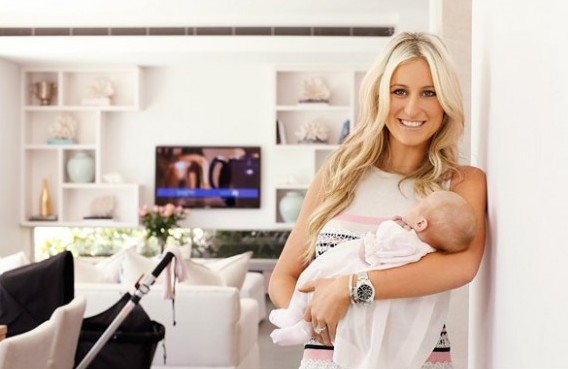 She started her own PR company at the tender age of 24, took it from strength to strength in competitive environments and thus changed the face of fashion PR in Australia. And in 2011, the woman at the helm of Sweaty Betty PR added international offices, a new baby and a hot-selling novel to her super-stylish name. We had a chat with Roxy Jacenko about her new book, Strictly Confidential and the aphrodites that have flowed from all her hard work when putting her business at the top of its game – and keeping it there.
Roxy, Strictly Confidential is your first foray into books. How does it feel to be able to add 'author' to your wonderful list of credentials as a dynamic entrepreneur and business woman, mother, and to some, super-stylish lady on the Sydney social scene? It's CRAZY! It wasn't until the first actual copy printed in book format with a glossy cover hit my desk that it actually hit me!
Were there any moments throughout the book writing process where you wanted to stop with the project and just stick to your day job? Not at all – the book was a challenge and I love that about it!
How did you deal with it when the writing and the working got too much? We know that your working day extends beyond that of most other workers, so in what ways did you get to stop and reconnect with yourself in order to be able to increase your output? I suppose I don't look at it being something that was a burden – more an exciting opportunity and also a challenge – my days aren't 9 to 5 by any stretch and a book was just something else I threw into the mix. I am not really the type to sit back and relax so I loved the fact that on a Sunday when work slowed down I could spend some time working on it for a whole day!
Was the novel a long time coming? Or were you able to write in a very swift and quick manner because you were writing about something you live and breathe on a daily basis? The process was approximately 1.5 years, from the time the Publishers at Allen & Unwin approached me, however the actual writing process was about 10 months. Writing a book of this nature which is heavily based on my experiences in the PR world wasn't  overly challenging as I had plenty of actual experiences I could draw on from for inspiration and then get a little 'more' creative with them to create a fun and light read with sparkle!
Take us through the routine you maintained when running the business while simulatenously writing the book. Did you write at night? During the day? On weekends? What inspired you, when and how? I actually spoke into a dicatphone daily! The best invention EVER! Every afternoon while driving home from a busy day at Sweaty Betty PR HQ I would recount the days events, past experiences that I would remember and any funny moments I could think of. They then were put together to form a book. There was definitely no 'rigid' routine. The only regular activity was meets every 2nd or 3rd week with my fabulous publisher to discuss where I was at and which parts she felt were/weren't working!
You started Sweaty Betty PR at the (very) young age of 24 and quickly established it as the go-to for the how-to in engaging with media and thus consumers for a vast array of brands and companies. Was writing the book a way to perhaps document your challenges and great moments, or was it more of a logical step in your quest for another challenge? A bit of both really! Starting a business as a girl at 24 years old was a bold and challenging move – I made a break from a stable career which could have been successful or a complete disaster, I think Jazzy Lou really expresses this in the book – the ups, the downs, the people and the absolute dedication it took from the start to shape it into the business it is today. The book in my eyes shows to people who are looking to forge a career in PR what it REALLY takes – and that's a far cry from a diet of Champers and Canapes! I also loved the element of challenge involved – this book came from the girl who was the world's WORST student – so realistically I think it's a good indicator that if you put your mind to something, anything is possible!
People reading the book might be searching for gossip between the lines so to speak. Is that something you thought about when writing? Look, simple answer – who doesn't love a little gossip? And who doesn't love walking away thinking – could that be?????? I think creating an 'air' of mystery which left readers questioning was critical in a novel like this!
No doubt there is going to be a little mystery about some of the characters, settings and events that occur in the novel. Are you going to enjoy having a little chuckle to yourself if people start to play guessing games, or are you weary about what the reactiosn might be? TOTALLY!
How does it feel to have someone do your PR [the publicity team at Allen & Unwin are handling the book's publicity]? Did you hate handing over the reins or was it a welcome break after writing the novel? It's a great opportunity to work with another PR person, I have worked closely with Lou at Allen & Unwin, its really nice to be able to share contacts and ideas on how best let people know about the novel. She is a wonderful Publicist and has taught me a thing or two along the way!
You recently had a (very cute) baby. How has motherhood changed your work dynamics, and has it changed your perspectives of anything? Pixie-Rose was born 2 months post submitting the final copy of the book. She is amazing and I am SO lucky! I have her learning the ropes of the business already – she spends a lot of time with me in the office with the team and loves all her friends here in the office!
If you could so kindly clear up a rumour for us: Is the name Pixie-Rose an ode to your industry? Pure coincidence! What are the chances!!!!! I still laugh about it! I love my work and my chosen career BUT I actually didn't realise her initials until my close friend Joel said – OMG Roxy have you looked at little Pix's initials – Are you joking!!!!! Oh dear!!
What advice can you offer to mums and working dynamos who want to take on a creative project, such as a novel or blog, alongside their current work and familial commitments? Anything is possible and if the opportunity is there GRAB it – its so rewarding!
In your novel, your character Jasmine writes about receiving bad press for the purchase of her Aston Martin. We remember the coverage you got when you received yours. Did you reflect on this when you wrote this particular part? Surely a woman who has a third arm [Jacenko's blackberry] and works the hours that you do is entitled to splurge her hard earned cash. What were you thinking when you read the articles about your car purchase? I was definitely quite shocked. I mean, lets be frank, it is just a car. Okay, a bloody expensive one BUT boy did I work like a dog to get it and it was MY DREAM since I was a little girl! So why not buy it? What impact on anyone else does me buying a car really have, its not like I asked anyone else for a contribution to put towards it!!! Should one not be able to enjoy the fruits of their labour for the sake of people having something to say of a negative nature?! I say bugger it! I used to worry about 'what people will think' – I have learned to get on with it and worry less. Everyone is always going to have their own opinion on who, why, did she, didn't she! No time for it! I just get on with it and keep doing what im doing J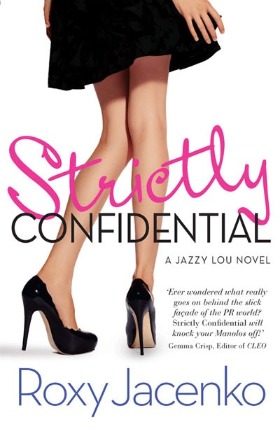 Again with the novel – we love that you openly mention your main character's admiration for Kelly Cutrone, then say she'd rather not have her staff cry outside because there's no time to cry and because who knows what paps might be lurking outside. Is this part of the Roxy Jacenko school of thought? I think what Kelly Cutrone has built as a business is impressive. I certainly don't follow her style of management (I don't think) but I do try and work through issues with my staff rather than shout and make them cry! Kelly knows what she wants and needs to succeed in this cut throat world of PR in order to get her client column inches and I like the fact that she is FRANK and doesn't hide that – afterall, we are only in business if we deliver, the moment the ball is dropped and our clients don't get the cut through they pay us for we are out the door!
Sweaty Betty can be credited for chasing the face of PR in Australia. It definitely has the WOW factor in its engagement with media – why is this so important to you, and do you think this is why clients continue to come to your agency? Do you think this has ever been criticised by others in the industry? I guess coming into the industry with no formal tertiary education meant that my operation of the company was ALWAYS going to be different to other PR companies in Australia – I think it's a fresh and new approach and people like that……. I don't stick to rules and it seems to work. I like to adapt to the different clients and do what works for each individual brand/client rather than go in belting out the same ''strategy'' for everyone…… We break the rules and push the boundaries and due to this clientele like it…. I don't doubt I am critised by others in the industry – but that's life – people don't take well to 'change' and 'different' methods but I am not about to let that stop me gaining the coverage and column inches for my clients….!
You also receive a lot of press coverage. Do you think press coverage for your company is just as important as it is for your brands? What do you think you gain from exposure in mags? Sweaty Betty PR does receive a substantial amount of coverage – its certainly not something I set out to do, but that said I am very thankful to the titles that continue to support us as a business and a team, its with their support that we are where we are as a company today.
We love your style – no matter where we see you photographed you always look good. What influences your look? What are some of your favourite purchases – and what's next on your wishlist? OH! Wow! Thank YOU! I don't really have any style icons, I mean one day I might rock a gym look (without actually going to the gym HA HA HA) and the next a celine ensemble – its just about how I am feeling on the day. At the moment I am going through a bit of a 'black' phase, next week I might be all about colourblocking clashing prints and colours. I guess its all about having fun and mixing it up.  I am loving the new Celine Cruise collection at the moment and am head to toe in it. I also love classics for accessories, think Hermes Birkin and Chanel 2.55 – timeless elegance that still work back with any look! What's next – some more ballet flats from chanel – I live in them – they are my work staple, I can RUN in them… I mean afterall, who can run in heels?!?!
Are you excited for your impending nuptials in early 2012? Can we expect a wedding with WOW factor, in the same vein as every other event that Sweaty Betty has to its name? We are getting married in March and I am working with event extraordinaire, Philip Carr for this – he has done many events for some of the worlds biggest names and I am thrilled to be working with him. It's low key but glam – the actual ceremony and reception at Sydney's QUAY restaurant! The WOW for this will be the detail, food and view…..
And finally take us through some of your own aphrodites, that is, what are the things in your life that make it bigger, better, and more blissful? (Feel free to be frivolous, we'd love to know anything like holiday destinations, designers, fave items of clothing, make-up brands etc). Time with Pixie-Rose and Oli – hanging out with them on the weekends and squabbling over trying to erect the pram is always full of laughs. Holidaying in Paris – my first trip with Oli in 2010 – we have been back this year and will go annually – he has French relatives and knows the place so well (until meeting Oli I was always lost there!) My team – the girls I work with, all 20 of them – they make everything possible and I love them like my family – they are like my sisters. I am SO lucky!
On your marks, get set, chase:
Strictly Confidential (Allen & Unwin, RRP $24.99)  is on sale now.