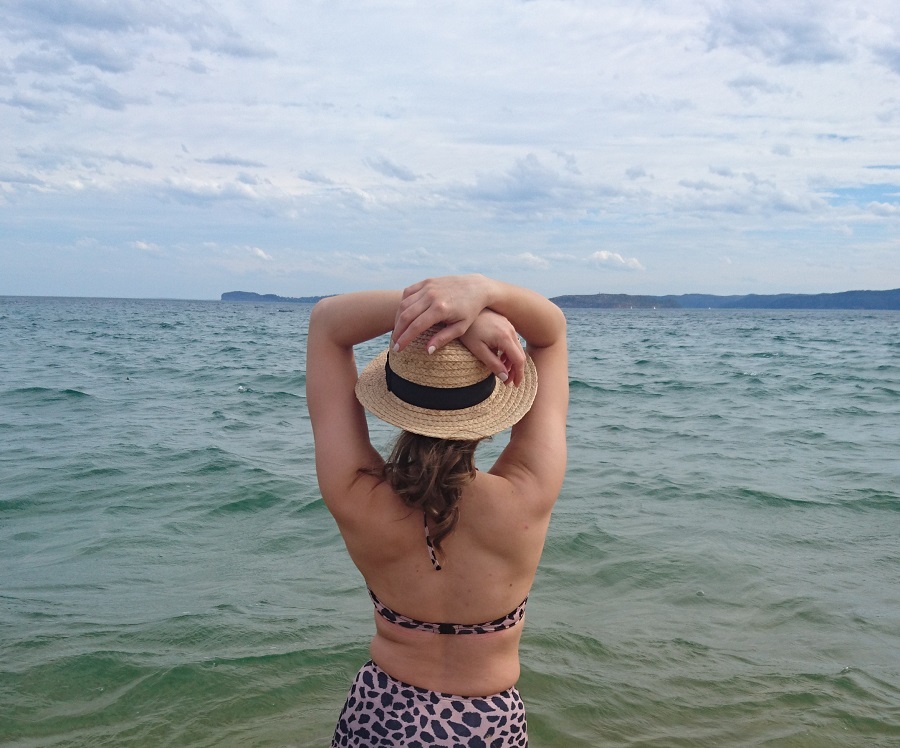 A few nights ago, while my husband was away on business, I rearranged our bedroom furniture by myself. At midnight. This required some considerable effort, as I am a rather petite person with very little physical strength (all those Kayla Itsines workouts I never do), and our bed is the size of a small city. But when I was done, I felt instantly more contented. The layout of my bedroom had bugged me for months, and finally, I had fixed it. That night, I fell asleep that much happier.
Less than two weeks into a new year and I am committed to doing just one thing a day that makes me happy. On one of those first eight days, I started a list of all the hotels in Sydney I want to staycation in. On another, I booked a bunch of hotels (including a traditional Ryokan) for my upcoming trip to Japan. I let my daughter jump in the 'muddy puddles', Peppa Pig-style, in the heavy rain outside, and even put on my own wellies to join her. A friend came over to talk about her vacation plans for 2017, so we had pastries and French tea with the pretty tea cups and the gold cake knife and cake forks – not my generic mugs and cutlery. I had a long pub lunch with a good friend, and we spoke about our shortcomings and aspirations with brutal honesty. I kept decluttering my belongings – a la Marie Kondo – feeling lighter with each haul that went off to the charity shop.
I felt like I had a handle on life, for the first time in ages. And it felt good, because most of my last year felt like a total write-off. I didn't write much. In fact, I wrote very little. Probably three blog posts, two freelance articles (both of which were months late), a couple of opinion pieces and zero new fiction drafts. For much of 2016, I fought the demons of depression on a daily basis. I suffered a traumatic miscarriage. I didn't write about either, because I come from a community where these things are hush hush – something to be ashamed of – even though I didn't ask for either and even though I spent days wondering why – and how – I was experiencing them.
At times, I felt this shame too intensely. There were Christians being persecuted in the Middle-East, Muslims were being blown up in their places of worship on their religious holidays by their own countrymen, children were dying in Syria, Mexicans were hearing about walls by a man who would become their president, girls were going missing on their walk to school, families were being torn apart by drugs, mothers were getting diagnosed with terminal cancer. And here I was: young, healthy, working and free, and I was depressed? Like seriously, what did I have to feel sad about?
My husband asked me this every few days. I got sick of repeating myself: the old 'I can't control it – it's a chemical imbalance in my brain' excuse felt a little weak.
So I let myself do nothing. I didn't write. I moped. I stopped reading. I stopped applying for things, pitching articles, putting myself forward for events. I didn't go out as much. I got a referral for a psychologist from my GP, but then just sat on it, doing nothing. I booked a last-minute appointment at the end of 2016, because a friend said I should. Then I cancelled my follow-up.
I thought that all that nothingness – coming off the grid, staying quiet – would help, but it didn't. On some days, still being alive was the miracle. Getting out of bed, being a semi-functioning human who would smile at you as you spoke to her, was like running – and winning — a marathon. As 2016 drew to a close, I realised that I would have to actively try and improve my mood. I knew it wouldn't improve my condition, but I had to hope that it would help.
And in some ways, it has. I ushered in 2017 with a sense of optimism. I vowed to do one little thing – no matter how small – to fall asleep a little happier each night. I was determined to extend Marie Kondo's 'Does it spark joy?' philosophy to everything in my life, not just clutter. I even bought a book on the Danish Hygge way of living, ready to curl up with in Autumn.
It took a good nine days for the despair to hit in again. A big part of that was probably due to coming out from under my rock in the second week of January. For the first time since Christmas Eve, I was going online for (more) extended periods of time. I would pop onto Twitter or read an opinion column or hear something on the news. It was like culture shock – those first moments of a new year that don't feel as good as the first days did. But, and here's the light at the end of the tunnel, it did take a whole nine days for me to feel that despair. I was able to finish reading a book in those nine days, and although it has taken me three days to write this, by the time I hit publish on this post, I would have actually written something.
Considering how I fared in 2016, those are big achievements.
Today, I took a long lunch at a lovely French restaurant with views of Sydney's Harbour Bridge. There was champagne and chocolate fondant, and that was my little dose of happiness for the day. I'm probably cheating, but I will also go out to dinner tonight, with my husband, for a cheap meal of freshly-made northern Chinese noodles and some steamed (or pan-fried, I don't discriminate) dumplings. Tomorrow, I'll take my daughter to the beach for a couple of hours.
I'm taking baby steps, but I've been able to start over – and that in itself, is sparking joy.