When I decided I wanted to slightly pare back my belongings, one of the first (and easiest) things to part with was my collection of cookbooks. I had a dozen or so books that I hardly used with regularity – rather, there might heave been five to ten recipes in each one that I would look to at odd times. On the contrary, I had started putting together a folder of recipes I printed out or tore out of magazines, and I copied my favourite recipes into this folder. My new resolve was to keep this folder, and to complement it with a select few books that I knew I could count on to encourage me to eat in a healthier, more whole food-oriented way. These are the titles I have added to my shelves in recent months, and they are so wonderful, that even in my resolve to live with less, they add a little more to my life.
1. Nourish – The Fit Woman's Cookbook, by Lorna Jane Clarkson ($44.95):
There's no denying that Lorna Jane Clarkson has built an empire out of her 'Move Nourish Believe'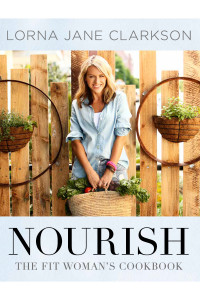 philosophy, and after flipping through this book, I totally get her appeal. In addition to recipes for juices, smoothies, main meals, snacks and desserts, Clarkson shares her wellness tips, active living philosophy, and advice on living and eating well in this lovingly-styled collection for the busy, health-conscious woman. From omelettes and granola recipes for breakfast, soups, fritatas and salads for lunch (even rice paper rolls!), and a variety of meaty meals for dinner, Clarkson shares her own recipes for a full life and a slimmer waistline, without entertaining the thought of compromising on the sweeter things (like friands, ice-cream sandwiches and chocolate bark for dessert). The book is interspersed with motivational quotes and inspirational mantras, as well as tips on gardening, shopping and mindful rituals, so you can reform your eating habits and your life in one go.
Winning Recipe: Out-The-Door Energy Bars on p. 64
2. Abla's Lebanese Kitchen, by Abla Amad ($35, Penguin Lantern):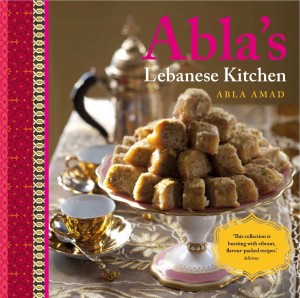 Not a healthy eating book per se, but the Lebanese diet is akin to the Mediterranean diet and thus boasts many health benefits. Furthermore, owning the right Lebanese cookbook would mean a nostalgic nod to a childhood that was filled with home-cooked, wholesome meals. I had no idea how hard finding the right Lebanese cookbook would be however. There were so many! After a couple of false starts, I found the perfect one in Abla's – a book that married the famed recipes of Lebanese restaurants with the hearty meals that were made with love in the small, traditional villages that my ancestors came from. One of these recipes would determine my purchase: a simple dish that hardly warranted a recipe, but one lovingly made by Lebanese Christians every Good Friday. Monks' Soup was a garlic and lemon broth brimming with lentils and vegetarian dumplings, and it was definitely one I wanted on my book shelf. Thankfully, this book featured so much more – pumpkin patties (also served on Good Friday), traditional pickles and mezze delights, and the everyday meals that you wouldn't find in a restaurant, like stuffed marrows, Shish Barak ('Lebanese Tortellini') and Kibbe balls cooked in yoghurt. Needless to say, all the recipes of my childhood are in here, which makes the prospect of sharing them with my own children so much more realistic, and thus exciting.
Winning Recipe: Monks' Soup on p. 61
3. The Healthy Life, by Jessica Sepel ($34.99, PanMacmillan):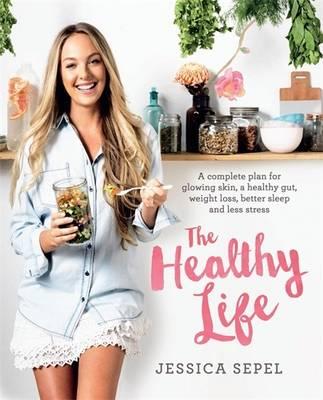 I was intrigued by this book the moment I saw it, even though I'd never heard of the blogger and nutritionist behind it. Still, in the spirit of paring back I left it in the shop, only to realise I couldn't get it off my mind. I bought the e-book and read bits of it before bed one night and whenever I had free time the next day, before coming to the easy decision it was so good I had to have the soft copy for my collection also. There is so much to this book – it's well-styled, beautifully-designed, and the recipes are doable and simple (no obscure ingredients here!). Plus, they all look great. Often, I buy cookbooks and realise there are only 70% of recipes that I would actually try, but in this book, everything looks amazing and has the added perk of being good for you. Sepel has combined a simple plan for optimum wellbeing with a collection of doable, tantalising recipes that don't compromise on the joys of eating. Think ricotta hotcakes and breakfast (N)ice Cream, teriyaki chicken and an assortment of vegetable mashes, homemade rubs, dips and dressings, and macaroons and chocolate crackles. She gets bonus points for her 'build a meal' plans for things like pancakes, salad dressings and stir-fries, where you choose ingredients from each section and build your own custom dish that you can tweak and rework for a spin on old favourites whenever you need something new. Definitely one of my favourite purchases this year.
Winning Recipe: Chocolate Paleo Souffle on p.277
4. I Quit Sugar for Life, by Sarah Wilson ($34.99, PanMacmillan):
The sequel to Sarah Wilson's I Quit Sugar debut might not fare as well as its forbear and its newer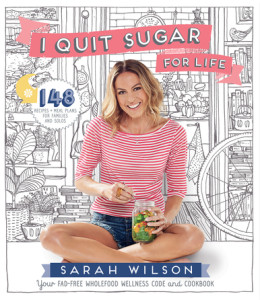 counterpart, Simplicious, but in my humble opinion (very humble, as I am still treading super-slowly around the quitting sugar movement, mainly because of my deep attachment to cake and ice-cream), this book is the best of the lot. Simplicious might be bigger, but this book has a great intro to a holistic healthy life. Wilson's wellness code covers things like movement as the basis of 'good' exercise, the importance of routines, and tips on reading food labels, freezing foods, minimising waste and choosing booze. Most of the recipes are tweaked old faithfuls which could be easy enough for the health-conscious, but Wilson wins points for sweet treats sans the fructose – think lemon meringue pies, oh-oh oreos and red velvet cupcakes, plus a few tips on DIY versions of packaged things that have become staples – dressings, sauces and pickles, oh my!
Winning Recipe: Bone Broth on p. 190
5. The Healthy Chef App, by Teresa Cutter ($6.49, apple and android):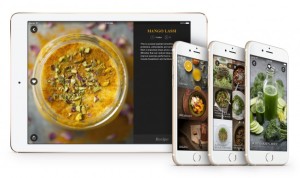 Not a cookbook per se, but it might as well be considering it contains over 140 recipes for the healthy home cook. Cutter's collection features drinks, breakfasts, baked goods, salads, soups, dinners, and desserts, as well as a few 'yummy extras' like pesto, jam, chocolate spread, tomato sauce, nut butters and fermented foods. The app is so well-made that you can select your favourites which appear under their own tab right at the top of the app, and you can also read Cutter's expert advice on how your body will benefit from each ingredient in the meal. She also includes tips and variations at the bottom, and the photography and styling is really great. The fact that it's an app means it's with you at the supermarket which is fantastic, and at under $7, it's a real steal and excellent value for money.
Winning Recipe: Sweet Potato Hash in the 'Breakfasts' category