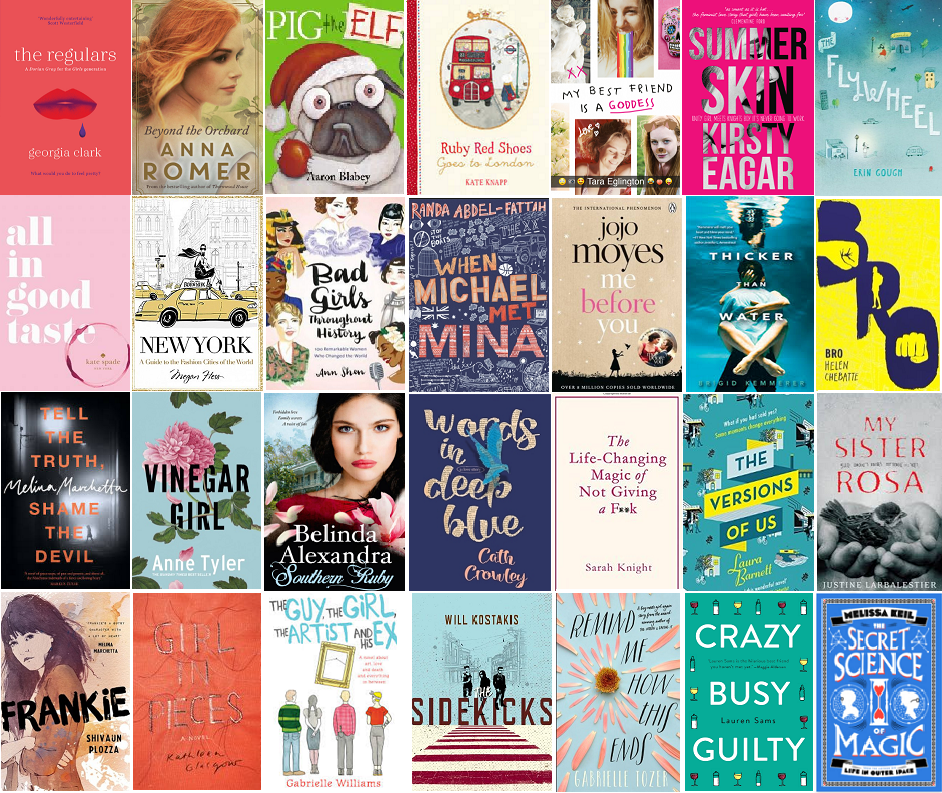 Books make excellent last-minute gifts. No matter where you are in Australia, there's probably a book store (or at least a David Jones/Myer/Big W/Target) in a shopping centre open late on Thursday or Friday where you can duck in and gift something amazing. Ask the booksellers. They know.
The great thing about books is that they cost very little compared to say, a gadget or leather belt or a fancy tea cup. But also they're priceless. They can educate and inspire, foster empathy and a sense of solidarity, and can be passed on or treasured. They can be easily wrapped (no strange oblongy shapes that ruin your under-tree aesthetic).
I didn't read as much as I would have liked this year, but I read a few books I'd heartily recommend. Including a couple of picture books from the many that I bought for my daughter. I've also included some of the titles in my 'must-read soon' pile, and four titles I am looking forward to reading in early 2017 just in case you're looking for the kind of gift that keeps on giving, and would like to give your recipient something for now, and a pre-order for later.
They didn't all make the picture, because I have books in different parts of my 'spaces' and after I did this picture (and pictures are NOT my strong suit) I kept finding others. But just type the titles into google and you're set.
I hope whoever gets these values them. So many are by Australian authors, which is a testament to our literary landscape but also a big help to an industry that's under threat. Big love to you all at Christmas.
Books I've enjoyed: 
The Regulars, by Georgia Clark
Beyond the Orchard by Anna Romer
Pig the Elf by Aaron Blabey
Ruby Red Shoes goes to London (the Paris one is magnificent too)
My best friend is a Goddess by Tara Eglington
Summer Skin by Kirsty Eagar
The Flywheel by Erin Gough
All in good taste by Kate Spade
New York by Megan Hess
Bad Girls throughout History by Ann Shen
When Michael met Mina by Randa Abdel-Fattah
Me before you by Jojo Moyes (But wish I can undo ever buying the sequel)
Thicker than Water by Brigid Kemmerer
Bro by Helen Chebatte
My Paris Dream by Kate Betts
Books I bought this year but that I haven't read yet, but want to read ASAP: 
Tell the truth, Shame the devil by Melina Marchetta
Vinegar Girl by Anne Tyler
Southern Ruby by Belinda Alexandra
Words in Deep Blue by Cath Crowley
The Life-Changing Magic of not giving a Fuck by Sarah Knight
The Versions of Us by Laura Barnett
My Sister Rosa by Justine Larbalestier
Frankie by Shivaun Plozza
Girl in Pieces by Kathleen Glasgow
The Guy, the Girl, the Artist and his Ex by Gabrielle Williams
The Sidekicks by Will Kostakis
My Part-time Paris Life by Lisa Anselmo
The Natural Way of things by Charlotte Wood
The Safest Place in London by Maggie Joel
All the Light we Cannot See by Anthony Doerr
Early 2017 releases that I have pre-ordered and wish-listed for next year:
Remind me how this ends by Gabrielle Tozer
Crazy Busy Guilty by Lauren Sams
Living the Healthy Life by Jessica Sepel
The Secret Science of Magic by Melissa Keil