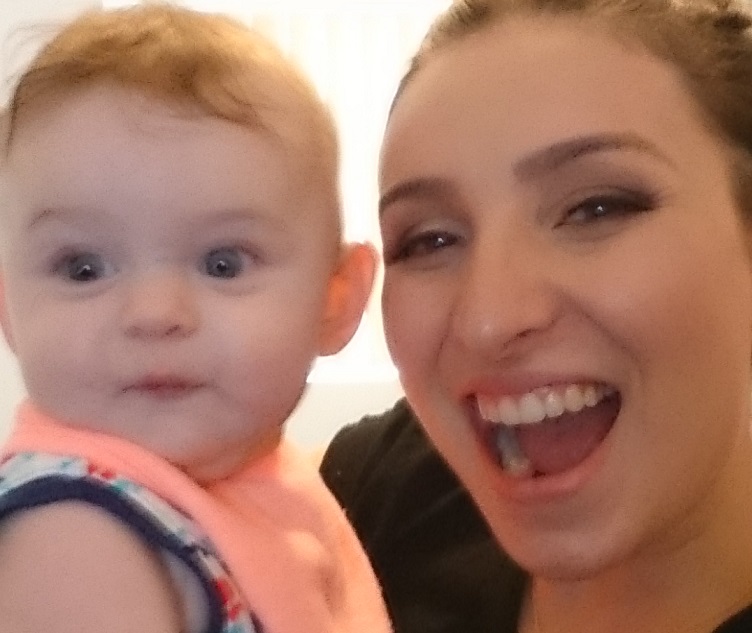 It never goes according to plan:

All your pre-conceived notions of parenting and pregnancy? Throw them out the window. Or put a match to them and set them on fire. I had the simplest, easiest, most wonderful pregnancy, and when it came time to deliver, everything changed. My epidural didn't work on one side of my body, my vagina did not do its job and dilate, and I went in to an emergency caesarean that turned to a scary experience. My daughter was born with a complication that took ten months to fix (although I am very thankful that it was treatable, and was detected early), and because the attending nurses had never seen a case like hers before, kind of freaked out. They were talking throughout the process and when she finally came out, went silent. I had to ask them what I had a few times, and when she was finally given to me, she was completely wrapped from head to toe so I wouldn't notice the aforementioned complication. Given the fact that I had spent 30-something weeks listening to the importance of early skin contact with the baby, I was crushed. And given the hushed tones I could overhear from my place on the table, I knew something was wrong. I spent my first 90 minutes as a mother crying alone in the recovery room, and the crying continued at sporadic times of the day for about five weeks post delivery, when my maternal instincts finally kicked in and I at last bonded with the kid who is now the light of my life. I had no qualms about interference in delivery, c-sections or anything else until I went through it in a fairly traumatic way – and thanks to people's uninvited comments and 'advice' – something that happens fairly often impacted me in a big (and quite negative) way. Lesson learned: Expect anything.

Buy simple, not fancy:

When friends first found out I was pregnant, they excitedly spoke to me about all the fancy gadgets and accessories that a new mum needs. Assumptions were made about what kind of baby bag I would carry. I had a penchant for designer bags, surely that would extend to my baby gear? Erm, no. I buy my designer goods for their durability, elegance and timelessness (I've had the same black bag for eight years and it still looks great), but there's no way I'd invest a whole lot of my hard-earned cash on something that will be in my life for a fleeting few years. Also: babies are messy. They are cute and wonderful and cuddly, but there are things that come out of their mouths and bottoms – and things they smear with their hands – that you would not want on a baby bag that cost you a few hundred bucks. Trust me. I bought my baby bag from Target when it was 40% off and it cost me $25. I loved it…for the short length of time I used it. As Alissar grew and I realised I only needed some wipes, nappies and a change of clothes, I started carrying a large-ish cosmetic bag/pouch in her pram basket. It was so much easier than lugging about so much crap 'just in case'. Speaking of lugging, the pram exercise was probably the lesson that taught me the most. Husband and I had small heart attacks when we went pram shopping. There were dozens of prams in this giant showroom and the assistant greeted me with the polite but confusing question of 'What kind of lifestyle do you have?'. Though she was not at all impressed with my answer ('the regular kind'), she proceeded to show me the numerous bells and whistles and storage compartments of a variety of prams out there, some of which cost just as much as my first car. Luckily I had prefaced this excursion with a lesson learnt from the spontaneous surveys I conducted with strangers on public transport in the early months of the pregnancy. The overwhelming majority of parents – some of whom had bought large, fancy prams – implored me to purchase something light for the sheer convenience. One guy told me he couldn't fit in some shops with his pram, while one woman told me she bought a second, cheap, and light pram after using her big, expensive one for just two months. That said, my pram was still fairly costly at about $800, but it had both seats and weighs less than 10kg, which makes it perfect for zipping around in, folding into the car and carrying on buses/trains and up stairs. That said, I wasn't as bright when I bought the high chair – although there were not as many options in the baby shop for that trip – and I went with one with a cushioned seat. After about 13 days of cleaning inside the cushions on a regular basis thanks to all the food smearing, I sold it on ebay and bought a $25 plastic chair from IKEA. It is a move I do not regret when I wipe down the chair in a hurry of an evening.

Routines take hard work and commitment:


The R word is the holy grail for a lot of new parents. It's how you try to maintain a life once you've been entrusted with the care of a human being that needs constant supervision, nurture, love, etc. But routines require a lot of hard work. Babies beyond the ages of four or five months (who now spend more time awake) do not know about your desire for sleep or schedules. They just do their thing. When I started working solidly when my daughter was six months old, I really strove to make that routine thing a reality. And because she wasn't always in my care (due to time with grandparents on both sides while I worked), it was bloody hard. When I decided it was time to commit to it for my own sanity, it took a lot of hard work. I had to tear myself away from things I wanted to do for an hour to set her up for those associations with sleep. Initially, I would put her in her bad after a feed/story/lullaby, and she would cry for 15 minutes straight before falling asleep. After a few days, she would only cry for five minutes, and by two weeks, she would cry until I walked from her bed to the light, and once the light went out, she was silent. All those tears broke my heart, but I was clear in my resolve and the results have been worth it.

Don't stress:

Sure, this is easier said than done when you've just experienced the biggest change in your life. But if you have someone you can rely on (see #6), lean on them and take the time out that you need for yourself to feel better. You can't be a good parent if you're not in good shape. I stressed so much about my birth experience that my breast milk dried within 5 weeks, and then I stressed out so much about that, and for a while I felt like I was constantly stressing. But by the time she was six months old, I had really learned to relax, and even friends who had babies a little older marvelled at how blasé I became when they were still stressing. I just needed to remind myself that all kids fall/get sick/ go through times when they don't eat etc. It's just part and parcel with the experience and there will be times of change (including moments when they don't stick to the routine). Sometimes, you just have to throw your hat in the air and just do what you can. They're resilient, they'll be fine.

Throw perfection out the window:

So far I think I am doing Ok. I have a happy healthy baby (thank God), I have a career I am proud of, and sometimes, my hair doesn't look like shit and I have time to fold the laundry. But sometimes, I don't pee until noon. This is motherhood. I can have it all, but it's not going to be picture-perfect. I work. I have relationships outside the one I have with her. I like preserving my sanity and sometimes that means she will eat a meal out of a jar so I can do something else. We always talk about the work-life balance and sometimes that means you can't put 100% into both. Sometimes it means 80% in each, but 80% is still a distinction where most grading systems are concerned so if I don't meet someone's expectations then they are unrealistic. When my daughter started eating solids I made a conscious effort not to make her special meals. I would slightly modify whatever I was eating. Hopefully this means she will be less picky as she's been introduced to so much variety and texture, but it also saved me some much needed time and energy which then goes into valuable moments with her. When you become a parent you expect so much to change, but you are still who you are, and it would be unhealthy for you to sacrifice yourself completely at the altar of ideals to fulfil a fantasy. Children are worth compromises and sacrifices, but they also appreciate a good short cut if it's going to mean more quality time.

Build an arsenal:

Of medical supplies, parent guides, potential babysitters, Sesame Street episodes on your Foxtel, and so on. Children are unpredictable so you have to be prepared for anything. One of the best gifts I received as a new parent was a basket of all the essentials – huge bibs for feeding, Vicks vapour rub, nasal spray, pain killers etc. I loved it. It's great to just arm yourself with anything you might need so you don't drop all the balls when you're juggling and one goes somewhere it's not supposed to. And the most wonderful thing in your arsenal? Other mums. I'm so thankful to parent-friends who have been there for discussions, questions, advice and anecdotes when I have needed the. Liv, this includes you.

Don't emphasise on milestones:

My daughter spent the first ten months of her life in a brace and three weeks before her first birthday, another mother pursed her lips at me and said 'Isn't she walking yet?'. This ignorance kills me. You know, I can write a book but there's no way I can build a car or play soccer for 90 minutes straight or drive a train. Just like we adults have different skills and develop in different ways, so do these little people. And sometimes, when your child is taking their time to do something, it's not a reflection on you, or them. It's just life. Before you know it they'll be bigger and smarter and a lot less cuddly, so instead of expecting and rushing and stressing, take the time to enjoy the time you have with them right now. It is fleeting and once it's gone, it's gone forever. Build that parental bond, trust your instincts and everything else will fall into place without much effort. It's been happening for centuries, and it's worked out just fine.