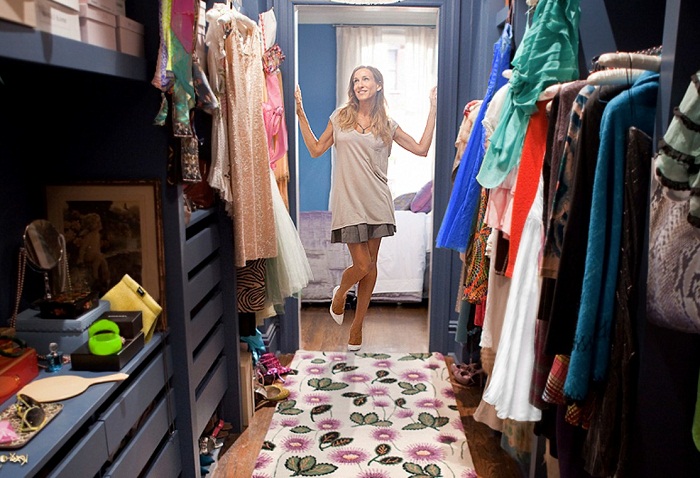 Fashion Fades, Style is eternal. It's a mantra we should be repating daily. It saves us money, keeps us stylish, and ensures we're out of the door in a flash, without the what-am-I-going-to-wear anxiety. So if you want a killer wardrobe that cooperates with you on the worst of days, then invest in these necessities. After all, having a killer wardrobe is not necessarily about having Kim Kardashian's credit card and more about knowing what to wear, when to wear it, and the easiest ways to pull it off.
A) Active Wear – A few pieces to keep you looking stylish when you're zipping to and from the gym (or anywhere else, I won't tell anyone). Especially if you're around those yummy mummies.
Ankle Boots – For those in-between season cold snaps, or minis worn with opaque tights. Go one better and add a pair of laced shoe boots to your collection (the ones that come just under the ankle) for that sexy old-school twist.
B) Blouses – Loose ones over cigarette pants and tighter ones tucked into wide-leg pants. That's the rule. And whether they're plain or patterned, they offer so many choices and outfit options.
Blazer – Who could forget Pippa Middleton walking outside the hotel the day after the royal nuptials in her skinny jeans, shirt, tote, flats and a blazer on top. Simple, chic, timeless and stunning.
Breton Shirt – French Chic meets model rock-chick. Is there a better match? Wear it for a no-fuss, effortless look that transcends time and fashion.
Ballet Flats – Dainty and comfy. If they're good enough for Parisian women, they're good enough for us.
Belts – Skinny, thick, leather, embellished. Accessorise any outfit with a simple knot (or clip!) of a fabulous belt.
Biker Jacket – Because we can all be a rebel without a cause. Although in this day and age, we can pretty much find a cause anywhere.
C) Cigarette Pants – Worn with flats or stilettos, with a loose blouse or a fitted shirt, cigarette pants go the distance and always look perfect if you know how to pull them off.
Cardigan – A little one works wonders over a dress, but this is a must for the cooler months. Choose a long chunky knit version to layer in winter, and knot a belt over it for a modern look.
Clutch purse – For a night on the town. I have amassed quite a collection made of different sizes, materials, and prints. The perfect way to mix up an LBD.
D) Denim Jacket – Thrown over a dress or with white jeans, this is another denim staple that is constant cool.
Day Dress – Wear with flats or wedges on the weekend, or throw a blazer on top and heels on your feet and call it a working outfit. Win.
E) Exotic – Because we all love a little snakeskin or leopard print. It doesn't have to be the real deal to look good if you keep it simple and reserve it for a statement piece, like a purse or shoes.  Head to toe is not a good look, unless you're a middle-aged Lebanese singer performing in Beirut.
Evening Wear – An evening dress, beaded capelet, and dazzling accessories are essentials for every girl who's worth her night on the town.
F) Faux Fur – Because we all need to look a million dollars, darling.
G) Gloves – Sometimes a lady finds her fingers numb and blue from that awful cold, and dried out scaly skin aside, no man wants his cheek caressed by an ice queen. I love Carrie's pink leather gloves in Season Six of Sex and the City.
H) Handbag – A handbag IS an investment and every girl needs herself a hobo/tote for everyday essentials (and planes); a more casual weekend bag, and, as we've already learned, a good clutch. I'm a bit of a handbag addict, but I learned to apply this formula early. Want to go designer but are afraid to splash the cash? Go for a Longchamp bag instead, in pretty much any colour you fancy.
Head wear – A sunhat for sun protection, a fascinator for racing season, hair clips for bad hair days, and maybe a stylish beanie for the cold –  a few different items on hand for weather protection and dress codes ticks all the boxes. No one wants to be the hatless Prime Minister's wife at a royal wedding that specified hats in the dress code.
J) Jewels – Real or Fake. Think diamond or pearl studs, a simple necklace, a statement ring. Oh and turquoise. This is where Samantha Wills is your friend.
Jeans – No explanation necessary. Here's hoping anyway, otherwise our mission might be bigger than first thought!
K) Knee-high boots – For going out in the winter, and maintaining some sense of warmth.
L) Loafers – For the ultimate in classy and comfortable footwear. Love this season's take on old faves with embellishments and colours galore.
Luxe – Even if it's the $38 Marc Jacobs key ring you found second-hand on malleries. It's something designer no?
M) Mary-Janes – Need I remind you of the Carrie Bradshaw moment in the Vogue closet? Mary-Janes are not just for little girls.
Man-style – A man style watch, man-style shirt, boyfriend jeans, boyfriend blazer. Sometimes it is a little fun crossing over. Katherine Hepburn, I salute you.
N) Nautical – A striped top or casual shoes, cute shorts and a hat. For those Saint Tropez dreams.
O) One-Piece – Swimsuit/Leotard/Control-Wear, we don't care. Fuss-free, simple and usually on the money when it comes to hiding the bulge you earned at the hotel buffet.
P) Pumps – Slick, chic and lady-like. Choose a pair in nude and black and you'll always be right for what to wear. Christian Louboutin Patent is a perennial favourite of mine.
Pencil Skirt – The ultimate in sexy and feminine dressing. And it needn't be boring, with frills, pleats, and side-ruching making an appearance on some styles.
Peasant Top – Or caftan. To layer over our swimmers or rock the boho look at a festival. Camilla rocks this look, but for a cheaper alternative, check out Dotti or Glassons in the summer.
Polo – For a relaxed weekend look, if you're partial to the preppy style. This is where Ralph Lauren is king.
Q) Quality, not Quantity – Learn to invest for longevity. Think cashmere and wool for winter, good quality cottons, leather that wears well, and shoes that last those long days and fun nights.
R) Red – For when you want to look a little sexy. Think Olivia Palermo's nails, or a fab red dress for one of those nights out.
S) Sneakers – Converse, Vans, Volleys, Onistuka tigers. Sometimes our feet need relaxing too.
Scarves – Knotted around the neck, disguising a bad hair day, tied around a bag. Scarves are versatile, classic and FAB.
Sunnies – Because nobody wants early on-set wrinkles, and sometimes, we need something to cover our eyes as we ogle that cute guy or another lady's Miu Miu shoes.
Swimmers – In Australia, a day at the beach is as part of the culture as the humble pie. Which means so is the gear.
Sandals – To show off our summer pedi, no less! Mix it up and go for something studded or bejewelled.
Stockings – Fishnets for something sexy, and vintage styles (done best by Leona Edmiston) for winter chic.
Sweaters – To keep you warm and comfortable in winter. Uniqlo, J-Crew and Ralph Lauren are always on point.
T) Trench Coat – Hello Breakfast at Tiffanys! A beige trench is the ultimate wardrobe staple. Splurge on a classic burberry if you can afford it. I have, and I have never looked back.
Tailored Shirt – Speaks volumes. Wear with black pants and pearls and channel Marlene Dietrich.
Tee Shirts – A basic everyday piece. You don't even have to spend a lot of money.
U) Umbrella – Don't be caught in the rain, grab a stylish one from Oroton for under $100. They're even cheaper at sale time.
V) Vintage – Because everything old is new again. And probably better quality anyway.
W) Wide-leg trousers – For office chic.
Wrap Dress – The easy working woman's wardrobe choice. It made DVF an icon.
White Shirts – In all styles. It is the ultimate basis for an awesome outfit.
X) Xpression – Wear your clothes with attitude – don't let them wear you.
Y) Yoga Pants – For quick trips to the newsagent or walking the dog. Or you know, doing yoga.
Z) Zip-up Hoodie – For home-time on the couch. Mine's a University of Sydney one, and I love it to bits. What's yours?
Do you have these things in your wardrobe? What's on your list? And most importantly, what have I missed that's an absolute necessity for you? Xx