The weather's warmed up and the invites are rolling in. But dressing for events can get a little complicated for such festive times. There's the matter of finding something stylish, budget-friendly and which doesn't require strategic planning to wear (think spanx, clever bras, or having someone on hand to zip you up while you inhale). And if you're a Lebanese girl, you have to strategise (and shop) a million times over. A couple of weeks ago, I attended a Black Tie wedding. Considering I've been attending at least four weddings a year since I was 16, I am not averse to dress shopping, but I've never had to worry about dress codes before (Lebanese wedding dress codes are easy: cocktail length if you're not a close relative, black tie if you are a sister/best friend/close first cousin to the bride or groom). This time, however, there was a lot of fretting. I'd just returned from a few weeks overseas and I wasn't prepared to part with a lot of money – and most suitable items came in at around the $400 mark, minimum.
Then I came across a few floor-length dresses at Sheike. Averaging at around $200 each, their mixed bag of maxis proved to be just the ticket for my situation. I went with a fail-safe option – black – and by the time I added a nice belt, statement cuff and a gorgeous clutch purse, I knew I'd hit the nail on the head.
For all the talk of it as boring, classic black with statement accessories always works, and as I have discovered, is the perfect way to set an evening standard in case I'm ever again at a loss for what to wear.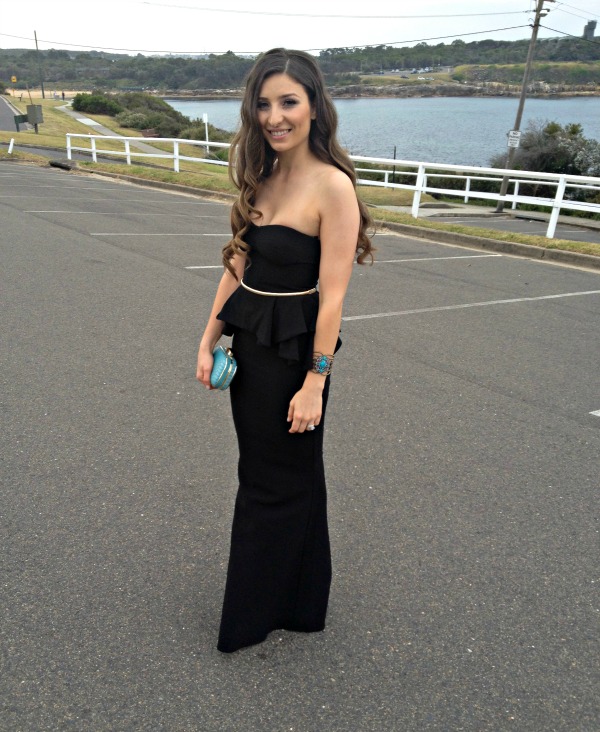 | shop the look |
Sheike Amaze Dress ($199 – available in store in black, and online in Lilac + White) |
Sheike Belt | Colette Clutch | Samantha Wills Cuff