Sarah's speaking experience extends to radio, television, writer's festivals, schools and events. She has taken up writer's residencies in both public and private schools in NSW. She's been on TV and Radio discussing writing, Gen Y, pop-culture, gender, multiculturalism and the Middle-Eastern community in Australia. She is a Stella Schools Ambassador, promoting female voices in literature, and a member of the Australian Society of Authors. If you'd like her to appear at your school or event, or would like her to comment on an issue, please don't hesitate to get in touch. 
Below is a list of upcoming events.
In Conversation with Nadia Hashimi
As part of her Australian tour, Afghani-American author Nadia Hashimi joins Sarah Ayoub to discuss representation in literature at Marrickville Town Hall.
When: Tuesday 6th September 1:30pm to 2:30pm
Where: Marrickville Town Hall, 303 Marrickville Road, Marrickville NSW
---
Writing Herstory: Contemporary Female Experiences in YA
Sarah Ayoub, Kirsty Eager, Erin Gough and Gabrielle Tozer discuss diverse female experiences in YA with Jeann from Happy Indulgence. Details to follow.
When: Saturday 20th August 2016
Where: Kinokuniya, Sydney
---
Abbotsleigh Literary Festival
Join Stella Schools Ambassadors Emily Maguire, Sarah Ayoub and Lili Wilkinson in a talk about diversity and gender bias in Australian Literature. Click here for full program and details on how to book.
When: Monday 8th August 10:40am
Where: Abbotsleigh Literary Festival , Pacific Highway, Wahroonga 
---
Tracks: Western Sydney
I'll be presenting a Fiction Masterclass and Panel Event as part of this one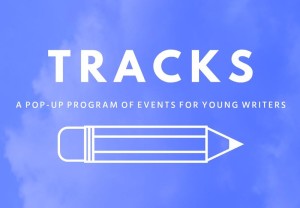 -day program to facilitate, develop, inform, and showcase young writers and publishers in the Western-Sydney region. Open to writers and creatives aged 14-25. More information and booking details here.
When: Saturday 6 August from 8.30am-6pm
Where: Information + Cultural Exchange (ICE)
8 Victoria Rd, Parramatta, 2150
---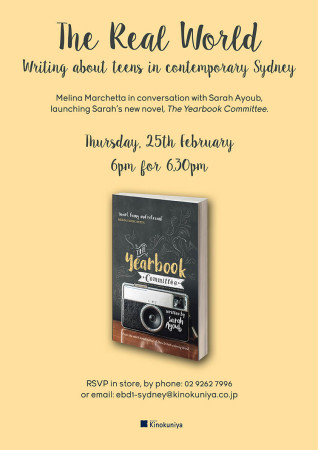 The Yearbook Committee Book Launch
Thursday 25th February 2016
6pm for a 6:30 start at Kinokuniya
The Galeries (2/500 George St, Sydney NSW)
Join Melina Marchetta, the best-selling author of Looking for Alibrandi, Saving Francesca, and On the Jellicoe Road, and I as we discuss writing teens in contemporary Sydney
RSVP in store or phone 02 9262 7996 or via Event Brite here
---
Beachside Bookshop visit, Avalon
Thursday 24th March 2016
4pm to 5:30pm at Beachside Bookshop
Shop 20, 11-13 Avalon Parade, Avalon Beach
Join me for afternoon tea and bookish chats about writing, young adult literature and my journey publishing The Yearbook Committee.
Please bring a gold coin donation to The Stella Prize #StellaSparks program, which is all about supporting female writers in Australia.
RSVP in store or email Libby[at]beachsidebookshop.com
---
Stories in Schools: Harper Collins Education Event
Wednesday 16th March 5pm:  (Only open to teachers, librarians and school staff)
---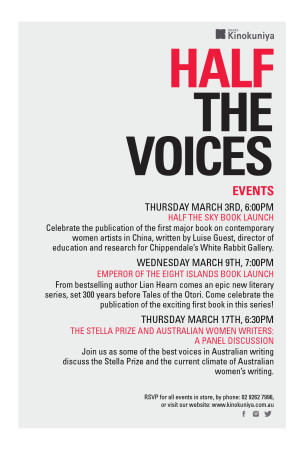 Women in Literature Panel
Thursday 17th March, Kinokuniya Sydney
6:30pm
To coincide with the Stella Prize shortlist announcement and the All About Women festival at the Sydney Opera House, Kinokuniya Sydney will be running a campaign to showcase and celebrate Australian women authors.
Join Alecia Simmonds (moderator) as she chats to Emily Maguire, Anna Clark, Fiona Macfarlane and Sarah Ayoub about the 2016 Stella Prize Shortlist, and the current climate of women writing in Australia today.
RSVP for the event via Event Brite here or Facebook here.
---
Berkelouw Books X Mona Vale Library Writing Workshop
Saturday 2nd April, 2016
Mona Vale Library
9:30 to 2:30
In the lead up to Berkelouw's Mona Vale Short Story competition, I'll be hosting a writing workshop for students aged 12-17.
Details to come – in the meantime, please get in touch with Berkelouw Mona Vale for more information.
---
CBCA 2016 Conference: Myriad Possibilities for a Better World
Saturday 21st May, 2016 at The Menzies Hotel, Sydney
3.45pm – 4.30pm
Join Nadia Wheatley, Sarah Ayoub and Dub Leffler in a panel discussion on how children's literature can create a better tomorrow.
---
PAST APPEARANCES
Sydney Writer's Festival Author Roadshow
Somerset Literature Festival, Gold Coast
Emerging Writer's Festival, Melbourne
Bankstown Library & Knowledge Centre
Children's & YA Literature Festival, NSW Writer's Centre
Emerging Writer's Festival Workshop, NSW Writer's Centre
The Walkley Foundation & Media Entertainment Arts Alliance – Media Pass Student Industry Day
SBS Radio
Blacktown Council & Arts NSW's Western Sydney Young People Literature Project
National Student Leadership Forum (Parliament House) – Assistant Small Group Leader
Vibewire Media Makers Workshops
SCHOOL APPEARANCES
Birrong Girls High School, Birrong
Queenwood, Mosman
Canterbury Girls High School, Canterbury
Montessori School, Sutherland
Smiths Hill High School, Wollongong
St Charbel's College, Punchbowl
Holy Spirit Lakemba, Lakemba
Governor Stirling High School, Perth;45