The manuscript
I wrote How to Keep a Boy from Kissing You at age 21 – it started out as just a story I felt I had to tell, whether or not anyone outside of myself ever had the chance to read it. That said, I was always very conscious of writing for an audience – girls 12 years and up – and set high standards for myself in terms of the quality of the writing. I treated the writing of the novel like I would an actual job – I sat down five days a week for 4-5 hours each time for about eight months, editing the previous day's material before continuing on. After I completed the novel, I decided to put it away for a period in order to be able to evaluate it with fresh eyes. Being 21, I had many people telling me that the odds of having the work published was close to impossible, so I decided to leave it be whilst I completed my University degree – during which time I did a minor in literature and wrote some freelance stories for bridal publications. It was only at age 27 that I had some free time in between job hunting that I decided to make a project of editing the original manuscript over about two months after years of my Dad asking me when I was 'going to do something with that book!'
The Contract/Book Deal
When I completed the editing of my manuscript I became quite determined to try and submit it to publishing houses, despite most people around me telling me that I was likely to never hear anything back once I'd wound up on the famous 'slush pile.' I did some research and found out that one of Australia's biggest publishing houses allowed authors without agents to submit unsolicited works via an 'email pitch' – basically emailing through a synopsis, a three chapter sample and a bio. I sent this off with the intention that if I didn't hear anything back in a few months, I would contact other publishing houses. In the meantime, I was actually trying to get a job in the Publishing sector, as books are my passion. I wound up scoring a position in the Sales department of Harper Collins. About two months went by and I almost forgot about the email pitch, until I suddenly heard back from them – indicating they were interested in the work.
I was worried that this might be a conflict of interest seeing as I was working for a rival publishing house – so I wound up very nervously explaining the situation to my boss – feeling embarrassed that I was a brand new employee seemingly revealing I was an aspiring writer. She, to her credit, didn't blink an eye and said she would talk to the Children's Publishing Department at Harper Collins to see if they would be interested. I ended up giving them about 13 chapters of the novel, and waited another six weeks, whilst unbeknown to me, the chapters were passed from assistant, to head of publishing, to the Associate Publisher for children's and young adult titles (Lisa Berryman). Finally one very exciting Monday morning, I received a call from Lisa (based in Melbourne) who told me she adored the novel and intended to take it to acquisitions meeting the following week. My chapters were then sent round to about twenty people on the acquisitions list, and the next Monday, at 10.30am, I had another call from Lisa telling me that everyone had loved the novel so much that they wanted to make an immediate offer for it, as well as offering for a sequel. One of the best mornings of my life!
After the Signing
After signing in August 2011, I was told that the novel would have to be reduced to around 100,000 words (it was then about 150,000) and that the reduced manuscript would be due in about four months, after which the formal editing process would begin. In order to assist me, my publisher sent the manuscript to an out of house editor who would make suggestions as to where the work could be reduced and improved. I then spent the Christmas period of 2011/12 reducing the word count. My publishers and editors were fantastic as they were very open to where I made edits and where I really wanted to retain certain parts of the story that I felt essential.
After I handed this in to my publisher, the reduced manuscript went to another freelance editor, Nicola O'Shea, who is known as one of the best in the business. Nicola then went through checking all grammar and suggesting further ways in which to tighten and improve the structure and overall feel of the novel.
Nicola was a dream for a new novelist to work with as she really understood the book and its characters, as well as my 'voice' as a writer. After all edits were completed with Nicola, the novel was then passed to a continuity editor, who ensured that the timeline and all aspects of the story (set over about a six week time period) made sense for the reader. The editorial aspect of my publishing deal was overseen by the wonderful Kate Burnitt (in house) and I had regular email and face to face contact with Lisa as to my progress, meaning that I feel tremendously well taken care of and confident about the work undertaken.
Aesthetics & Essentials
Lisa had a concept for the book cover from the very beginning – as most of the YA books on the market at the time were black/red/white and had realistic covers (usually with a photograph of a teen girl on the front) Lisa wanted something very different that reflected the girly, fun, romantic feel of the novel. She wanted an illustrated cover, in pastels, with the title of the book made prominent in a unique typeface. The design team at Harper Collins worked with Blue Boat Designs (based in Melbourne) to come up with different ideas and colour schemes. After these designs went to the Harper Collins cover meeting (attended by publishers, designers, heads of publishing and sales managers) the chosen colour scheme and layout was further tweaked over further months. I was consulted as to the images and was allowed to make suggestions that I felt were on brand. I was very happy with the final product and the image for the sequel has been adapted from this design also. In terms of extracts, we prepared a two- three chapter sampler to be launched on the Facebook Fan page, Goodreads and also sent out printed samplers to a large number of Dymocks and independent bookstores nationally to gain support for the book pre-release. I wrote a letter addressed from 'Aurora' (the books character) discussing her 'dating guide' and how she wanted to take the publishing world by storm to accompany the extract – keeping the message fun and on target with the overall branding of the series.
Marketing & Publicity                       
There was a marketing plan developed by Lisa and Tim (my marketing campaign manager at the time) – it was decided that Aurora should be developed as a 'teen dating expert' launching her official 'Find a Prince Program' (which features in How to Keep a Boy from Kissing You). We set up a Facebook Fan page under Aurora's name (https://www.facebook.com/findaprince ) several months prior and I began posting content on love and romance so that when the Facebook advertising began, the site would be ready for visitors. Details of the Facebook page, along with a scanable QR code, were placed on the back cover and author details sections of the book, so that enthused readers could find out more information. We also launched a Valentine's Countdown (my book was released two weeks before Valentines Day)– which was a tip a day for 14 days on how to land a Valentine's date with your crush. The Facebook page has been a wonderful part of reaching and communicating with fans. The 'teen dating expert' angle has flowed through to a large number of fans sending private inbox messages to 'Aurora' asking for personalised advise on their love lives.
I organised certain aspects of my marketing strategy where I saw opportunity – such as offering 10 copies up to Goodreads for readers to win and therefore review, which has led to more high star ratings on the site. I interact a lot with readers and reviewers on Goodreads, as it's a huge platform. I have also run 'National Kissing Day' competitions and contacted my home town paper and university for articles in the local media. As an author, it's important to find opportunities to promote yourself where you can. With the launch of the sequel, and having a new publicist Amanda, further publicity strategy has been implemented, with my being booked for the Sommerset Literary Festival in March 2014.
All about Tara's first book: How to keep a boy from kissing you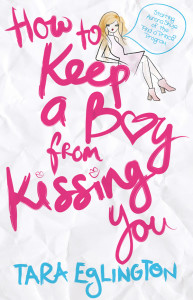 Sweet sixteen and never been kissed – and that's the way Aurora Skye wants it to be. She's too busy finding Potential Princes ™ for her two best friends, counseling her sensitive New Age dad and dealing with the unexpected return of her long-absent mum. But always in the background there's Hayden Paris, the boy next door, the bane of Aurora's life. Smart, funny, and always around to see her at her worst, he 'gets' her like no-one else …  and that's what makes him so infuriating.
When Aurora and Hayden are coerced into the lead roles in the school production of Much Ado About Nothing, things can only get worse.  How is Aurora going to save her first kiss for the secret admirer who wooed her with poetry and a spectacular bunch of flowers on Valentine's Day if she doesn't know who he is and she's obligated to lock lips with Hayden in the play's final dramatic clinch?
A page-turning, funny and delicious romp of a book that both kissing and non-kissing teenage girls will adore.