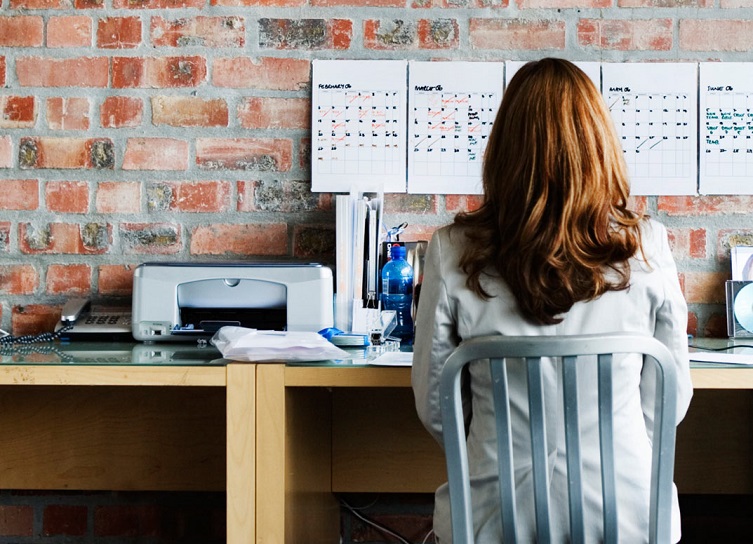 So you're about to venture into the glossy world. It's exciting, it's petrifying and if you let it, has the ability to be the best week of your life. Remember that 98.64% of the girls who have secured their place on the masthead started their venture as you are now: as a workie.
Use these tips, a sprinkle of ingenuity and a bucket of confidence to rock your work experience. Have fun and be sure to pack a pair of flats in your handbag!
The 10 Workie Commandments
#1 Do your homework
An unprepared workie is her (or his) own worst enemy. Before the big week you should have memorised the masthead, stalked the Twitter account and asked any and all connections for their words of wisdom. Walking into the office knowing who you'll be working with, what you'll be doing and what's news around the magazine will not only give you more confidence but will also demonstrate that you have a vested interest in the title and those who work there.
#2 Smile, no matter what
At times your placement will be breathtakingly amazing, but at others mildly lackluster. It's important to remember that amazing or not, your smile wattage should always be at maximum. If you're asked to photocopy? Smile. File invoices? Grin. Take the rubbish out? Beam. A smile is the best way to convey that you're enjoying your time and who doesn't love another happy face around the office?
#3 Put in the hours
The workday may officially start at 9am, but you can bet that when you walk in at 9am the office will already be in full swing. Dedication is key in the magazine industry and the simplest way to prove yours is to show up early, stay back late and make sure you're on time for your lunch breaks- especially if it's deadline week.
#4 Make your intentions known
So you want to write features? Are a self-confessed beauty addict? In love with styling? Let your Editorial Coordinator know! More often than not, they'll ask you on your first day and this is your chance to speak up and get every opportunity to work within the department you love. It's also worth thinking about what you want to achieve from your placement. If you want to secure an internship, ask what it takes to score the gig. As the saying goes you've got to be in it to win it.
#5 Learn as you go
It's important to remember that the Editorial Coordinator has a job to do –  a job that does not entail babysitting you. Once you are taught how to do something, remember it. Take notes if you need to. On day one you'll learn how to collect and distribute the mail. This means on day two you should be able to master the mail run without instruction. Remember your routines, coffee orders, mail call, recycling runs; your autonomy and forethought will not go unnoticed.
#6 Initiative: take it
There's a lot of down time during a placement, so rather than hover awkwardly as you await your next task why not create your own? Don't try to tackle anything too drastic without consent but do make an attempt to complete little jobs. Empty the recycling bin. Tidy the delivery desk. Organise the back issues into chronological order. It's the small tasks that will be appreciated the most and prove that you can work independently to benefit the team.
#7 Have ideas? Voice them
Every workie has their place, but if you get offered the opportunity to speak up then do so! Whether it's offering to help with a quote for a feature, a vox pop or completing some extra research for a story the Beauty Editor is compiling, chirping up and chipping in is a great way to prove your value. It paints you as a thoughtful, committed workie who is willing to go the extra mile. And it's that extra mile that could score you a permanent internship!

#8 Say thank you
As your week progresses you should be thanking various members of staff. If you loved helping the Fashion Editor on her shoot, say thank you and let her know. Not only is it basic manners but if gives you yet another opportunity to convey how much you are enjoying your placement. And when it comes time to say goodbye, a personalised hand written thank you note never goes astray.
#9 Make friends with the interns
The interns you come across in your travels can be your most valuable contacts. Firstly, they're generally more approachable and have more time to chat with you, which means they can impart all kinds of wisdom. Secondly, interns are also usually first in line for any magazine positions that open up across they board so it's an easy way to make friends who can keep you in the loop in the future.
#10 Follow up
So you've had a fabulous week, fallen in love with glossy-world and can't wait to get back there. So what now? It's time to make contact. There is a fine line between keeping in contact and stalking so be wary, but do keep your contacts in the loop. Send an email through to the Editorial Coordinator and anyone else you worked closely with. Keep it genuine and express your gratitude and desire to return one day.