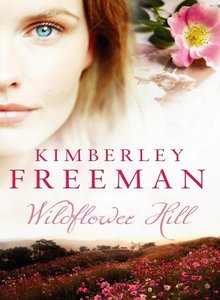 Tell us (in a nutshell) about your wordsmith journey so far: In a nutshell? Wrote stories my whole life; had one published at 27; 15 years and 21 books later [I've released] Wildflower Hill; still love it more than breathing.
What inspired you to write about old-time Australia? And what made you choose Scotland for the original home of your heroine, Beattie? I wanted to write about Tasmania during the Depression, because I'd read a lot about it and it was so interesting to me. I love Tassie and was keen to set a book there. And as for Scotland, that's just one of those aspirational destinations I'd love to go one day…
Was there a lot of research involved in the writing of the story? Did you know anything about wool farms and the like? My cousin Janine (to whom the book is dedicated) ran a sheep station in outback Queensland, so she was my touchstone on everything. Especially to do with horses because in real life I am terrified of horses. So a lot of research about wool, fashion, ballet, and of course life in the 30s.
You've previously written in fantasy and horror genres. Do you like flexing your creative muscles by writing about different topics and in different forms? (And do you have a favourite?). I love writing in any genre. It's all brilliant to me. I never wanted to be stuck in one genre, so I'm delighted to have the opportunity to write as Kimberley Freeman as well as Kim Wilkins. It's all about the stories for me, no matter how many ghosts or dragons are in them.
You have a degree in Creative Writing. Do you think that a degree in writing is essential to be a good writer, or do you think that good writers born not made? No, you don't need a degree in Creative Writing. But everyone could use a little training. There are a lot of great courses in community writers' centre especially. But a tertiary degree is only one avenue, and not necessarily the best for everyone. I don't think good writers are born. We all have to do an apprenticeship.
You also write under the name Kim Wilkins. Any particular reason for the different names? That's just so as not to confuse the markets. There's not necessarily a crossover in readership.
You have a blog on your website. Does that allow the real you to come out (Kim writes on her thoughts about her writing and a number of social/cultural/political issues), as opposed to your characters?
I sometimes worry about what I blog. If I blog about politics, for example, I run the risk of alienating some readers. Also, I realise that there are children reading some of my books so I always put a swear warning on if I'm really going to vent. But in the end, my blog is a chance for me to express an opinion publicly so I try to be honest with myself and my readers.
Can we have a sneak peak at your goals list? What are some of your other projects? Goals? Get through the week without dying of exhaustion. I work 3 days a week at University of Queensland, write books, and raise 2 young kids. At the moment, though, I'm working on a big fat historical fantasy novel.
Will you be taking Wildflower Hill on any book tours around Australia, or even internationally? No, though we have sold it internationally to Russia and the USA.
Did you struggle in terms of finding a publisher when you first started writing? What was that like? I have an agent, so I've been very lucky. [Sarah: Me thinks it's time we had a dicussion about the merits of getting an agent. Stay tuned].
What are some of the difficulties that you encounter when working on a big project such as a book? Staying focussed when the world intervenes. You have to have really good habits and not just give the book up for weeks on end.
Were these difficulties maximised by the fact that you were writing historical fiction? All fiction requires research, not just historical. I just factor that into my writing time.
What are some of the perks of the job? Working in your pyjamas.
Any advice for aspiring writers? Read a lot and write a lot and forget about publishing. Concentrate on writing something you love. The other stuff will come if it's meant to.
Ten in the Hot Seat:
Describe yourself in one word: Driven
Biggest accomplishment to date: My children
You wish you wrote: Guy Gavriel Kay's "The Last Light of the Sun"
Can't leave home without: Blackberry
One thing you are currently writing: A fantasy novel.
First thing you wrote: A road safety story, aged 5.
Addicted to reading: YES
Top spot on your goals list: Work out how to clone self.
If you were a character in a novel, you'd be: Dead by page 10. I'm quite weak.
The best thing about being a wordsmith: Your characters can't talk back the way your kids can.