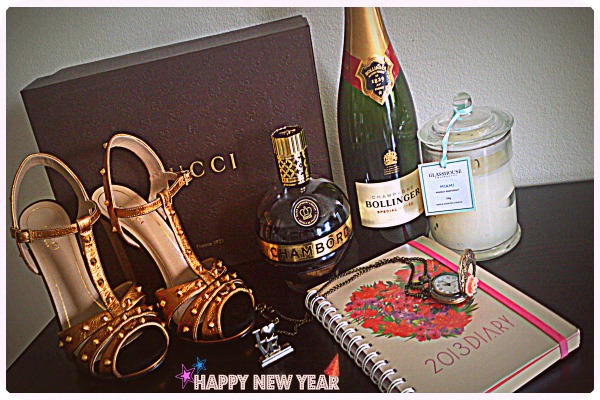 Just want to take a brief moment mid-writing time to wish you all a wonderful 2013 full of love, prosperity and joy. And to share my new year's arsenal 2012/2013 with you. In case it's not obvious, I always like to start my new year off with an arsenal: a kit for bidding farewell to the past and saying a shiny new hello to the future. Every year, I
compulsively clean and de-clutter with gutso, without worrying that my other half will poke fun of me
buy something new to wear (new Gucci shoes – I love them because their T-Bar and block heel remind me of times gone by, but the studs are so modern)
laugh and reminisce with people I love (there are plenty of them, so I've put the word out to symbolise that part)
drink loads of cocktails and champagne (this year it was chambord + champagne cocktails)
concern myself with details and atmosphere (this year's warm summer night went perfectly well with Glasshouse' new triple-scented Miami candle – it's pomelo grapefruit)
draft a comprehensive list of resolutions and write them out in my shiny new diary before I go to sleep, so that they're all ready for actioning when I rise from my post-festive slumber on the 1st (2013′s diary is from TYPO and it's whimsical, pretty and perfect for frazzled people)
equip myself with a timepiece to assist the countdown (it's just not the same without a countdown!)
eat more cheese than a person who doesn't want to grow out of any of her clothes should.
Sometimes my arsenal includes materials that I'd need for the resolutions ahead (eg: to take up pilates) but mostly, the items in the arsenal fit into the categories above (which obviously exclude food). I guess having an arsenal makes me feel more optimistic and ready to take on the year ahead. For me personally, 2013 is set to be big as I release my book into the world, finish the first draft of the other one, continue working full-time and freelancing. I'd also like to take a holiday, fall pregnant if I am to be so blessed, improve my posture (for real this time) and maybe, finally take up that resolution to learn French. I'm already drinking more water, so that's a good sign.
Do you have a new year's arsenal? Or resolutions you'd like to share?