The Publishing Deal
I'm a writer by trade and I always knew I'd like to have a crack at writing a book. In January 2012, I started to write what I assumed would be the first of a string of bestselling YA novels. I would franchise the shit out of this thing. TV shows, movies, spin-off series, merchandise, a line of nail polish with witty, on-point names – I'd dreamed it all up before I'd even finished the first chapter.
I digress.
Anyway, I wrote about 10,000 words of this Soon-to-Be Bestseller and wondered how quickly I could become mega-famous and rich from it. So I emailed a book publicist I knew and liked, with the subject line: READ THIS IMMEDIATELY AND TELL ME IT'S NOT THE BEST THING YOU'VE SET EYES ON SINCE THE FAULT IN OUR STARS.
I jest.
I wrote something along the lines of, 'Hey Kel, would you mind having a look at this when you get a sec and letting me know if it's not total BS? Ta.' To my eternal gratitude, she replied that very same day, saying, 'This is really funny. I like it – I'm going to send to my publisher.'
Cue heart palpitations and another email – this time, to the people at OPI, to flag an upcoming nail polish line I wanted their help with.
What came next was very long and ultimately, very disappointing. It spanned the next two years, and considering I've just spent the last 200 or so words telling you about one afternoon, let's skim the "long" and "disappointing" bit, shall we? What happened was:
– the publishing company was very interested. They suggested some edits that I happily made.
– They recommended I write the whole thing before taking it to what is called an "acquisitions meeting," where publishers and the sales and marketing teams decide if they want your manuscript. I agreed, because I was in love with the book and also with the thought of being the next John Green (whose writing, incidentally, my own was compared to. I have only mentioned this about eight million times since I first heard it. If you didn't catch it in this sentence you'll catch it further along, when I mention it the next couple of thousand times).
– I wrote the whole thing and it was taken to the fabled acquisitions meeting. I was seven months pregnant and my nan, who I love so much, was dying. I mention these things only so you will feel more sorry for me when you hear that… my book was not picked up. I was devastated. I felt like I'd been dumped by someone I was deeply in love with.
– The publisher I had been dealing with (whom, it should be mentioned, is lovely and very intelligent and nurturing and essentially all the things you want in someone potentially publishing your book) told me that "everyone loved it" but also it had to change entirely because the comparison title had not sold well. Comparison titles are books that marketing and sales people use to compare your manuscript with. Occasionally it is flattering to see what your comparison title is – it was not flattering to see what mine was. I knew exactly why it hadn't sold well – it was a really terrible book. But it was also set in the same sort of world as my book, and that's why it was my comparison title.
– Anyway, my publisher asked me to change the setting of my novel. I was very upset but reluctantly agreed because of the nail polish line I was still massively into.
In January 2014, two years after this whole thing began, I finally had some sample chapters ready (I am not lazy, I just had a child and spent a year feeding her with my own body) and sent them off. At the same time, I had been playing around with another idea for a book. I'd had my own baby but I saw people all around me struggling with infertility. They were heartbroken with grief but trying to push on, to give it one more go. It made me wonder how far I would go to help a friend who couldn't have a child. That's how I got the idea for She's Having Her Baby. The main character, Georgie, agrees to be her best friend Nina's surrogate. That is all I'm telling you because you'd better go buy it.
I had written some sample chapters and sent them to another publisher I knew from the original publishing company, Jeanne Ryckmans, who was now working at Black Inc. I love Jeanne because she begins sentences like, 'When I lived in Paris…' and 'The thing about dating [INSERT NAME OF FAMOUS AUSTRALIAN ACTOR HERE]…' in a very genuine and completely un-pretentious way because she did live in Paris and also has dated famous actors. She is super-intelligent, knows her shit and dresses like she works for French Vogue. I don't mind admitting I would very much like to be her protege. I asked her if she liked it, if it was on the right track. Within three weeks, I had a publishing deal.
See? It was easy.
Then, of course, I got an offer from the original company for my original book. I wanted to accept it but couldn't, in good faith, take their offer and then tell them I already had an offer. So I did the right thing and chose honesty, and where did it get me? Nowhere. Well, not exactly, but they did rescind their offer and we thought it best to call the whole thing off.
Which brings me to the best and most important point: I had an offer! I was going to have a book published! Yay! So exciting! I had written 15,000 words! Which meant I only had about 70,000 to go! And about four months to write those words!
The manuscript
I signed my offer in February 2014 and submitted my manuscript on June 1. It was about 85,000 words, I think. As I mentioned, I have a toddler and a job, so I got it done whenever I could spare the time. When people ask me what my 'process' is, I stare at them blankly and try to remember where and when I wrote my book. I didn't have a desk (feel sorrier for me, please) and I didn't have a lot of time. I wrote when my baby napped, when she was asleep at night, before she woke up in the morning. I wrote on my day off work, when my Mum would take my baby for a few hours and I would head to the library (thanks for the free wi-fi, Haberfield Library!) I wrote on weekends when my husband was home, too.
I drank a lot of coffee but eventually, it got done and you know what? It's actually the best book that has ever been written.
So I guess it was worth it.
Editing
Jeanne was pretty hands-off while I wrote (she'd answer my questions but essentially left me to it). When I'd finished, I was assigned an editor from Black Inc – the amazing, smart, unflappable Kirstie Innes-Will, who I like to call KIW because that is how I roll. Anyway, KIW read the manuscript, made lots of incredibly helpful and fabulous suggestions and importantly, got me and got the book straight away. She understood the funny bits and the sad bits and helped shaped the bits that were meant to be funny but weren't quite there yet. We had a Skype session and chatted about the book, then she sent me her edits and I got to work putting them into place. Since my book is about surrogacy, I needed to fact-check a few things, too, and I did a lot of research into infertility and alternate methods of getting pregnant (guys, 'turkey baster' is not a euphemism).
There were three rounds of edits, in total, as well as proofreading. I have heard that editing is a goddamn nightmare but I'm happy to report that KIW made it super-easy and actually, quite fun. I liked this stage the best because I am a typical type-A eager-to-please student, and doing things other people have told me to do is where I thrive. I would be pretty good in the army.
The aesthetics
Having worked in magazines, I know how important covers are. So obviously I was terrified when it came to choosing a cover for my own book, knowing how easily it can make or break you as a writer (no pressure, designers!)
Black Inc showed me a couple of options that I did not like. I told them and they swiftly asked a freelance designer to whip something up, and the cover design she presented was AMAZING AND I ADORED IT. I am a big font nerd (I know, sexy) and I imagined having difficult and confrontational arguments over this design aspect, but honestly – she nailed it. I stepped down from my high horse and watched it ride into the sunset, never to be seen again.
I also started working with Anna Lensky, Elisabeth Young and Imogen Kandel, who all work in marketing and publicity at Black Inc. They are all terrific individuals who told me how much they loved my book. I want to keep them in my pocket at all times. As I type, we are working on a plan for world domination. I mean a publicity and marketing strategy. I feel very confident in their abilities and also in the resources they have at their disposal. Nero, the imprint of Black Inc my book is being published by, is pretty small. For me, this is a good thing. I'm just starting out, so I need to be nurtured at the bosom of this small but excellent company. There are no other books on the Nero list like mine. Nero is excited about this book. They want it to do well. They don't have 150 other books to promote and market. They can spend money and time on my book. This makes me feel very, very good and obviously, if this thing doesn't sell, it's all my own fault.
The end
So, where does this leave us? The book is written, I am mildly anxious that it is a complete flop but also heartened that I have had an amazing publishing experience. Soon I will meet with buyers from big bookstores – Dymock's, Big W, Newslink and the like. This is very important because, as much as we all want to be arty and indie and adored by Hilary Mantel, we all need to sell our books in order to continue writing and someday be adored by Hilary Mantel. So you want your book in big chains, not just charming little bookstores run by Meg Ryan. You want it at airports, where people will (hopefully) think, 'Gosh, flying to Europe is boooooring. I'd better get an amazing book to while away the time. Wait… what about this one, by Lauren Sams? It's called She's Having Her Baby and it looks sooooooo good. I'd better buy it then tell all my friends to do the same!'
---
ALL ABOUT She's Having Her Baby ($29.99, Black Inc)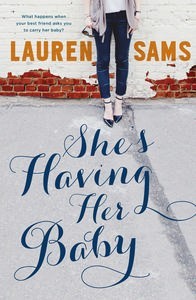 Georgie Henderson doesn't want to have kids, but her best friend, Nina Doherty, has wanted to have a baby for as long as she can remember. Sadly, Nina's uterus refuses to cooperate. One drunken evening, Nina asks Georgie for the ultimate favour: would she carry a baby for her? Georgie says yes – and spends the next nine months wondering why!
With intense bacon-and-egg roll cravings and distant memories of what her feet look like, she tries to keep it all together in her dream job as the editor of Joliemagazine.  Her love life's a mess – and sauvignon blanc's off the menu – leaving Georgie to deal with twists in her life she never expected.