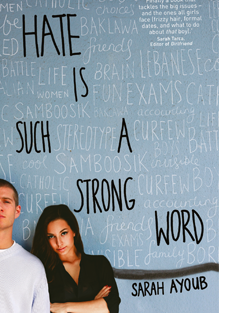 Sophie Kazzi is in Year 12 at an all-Lebanese, all-Catholic school where she is invisible, uncool and bored out of her brain. Surrounded by Lebanese friends, Lebanese neighbours and Lebanese shops, she knows there's more to life than Samboosik and Baklawa, and she desperately wants to find it, documenting her hates in a journal that sounds more like a rant list than a diary. Unfortunately, her father has antiquated ideas about women, curfews and the 'Lebanese way'. Bad news for Sophie, who was hoping to spend Year 12 fitting in and having fun – not babysitting her four younger siblings, or studying for final exams that will land her in an Accounting course she has no interest in. Just when it looks like Sophie's year couldn't get any more complicated, Shehadie Goldsmith arrives at school. With an Australian father and a Lebanese mother, he's even more of a misfit than Sophie. And with his arrogant, questioning attitude, he also has a way of getting under her skin. But when simmering cultural tensions erupt in violence, Sophie must make a choice that will threaten her family, friends and the cultural ties that have protected her all her life. Are her hates and complaints worth it?
Hate is such a Strong Word was published by Harper Collins in September 2013
PRESS + PRAISE
"A Young Adult debut with substance" – Sunday Life (Sun-Herald Supplement) 
"Finally a book that tackles all the big issues – and the ones all girls face (frizzy hair, formal dates, and what to do about that boy)."
– Sarah Tarca, Editor of Girlfriend Magazine
"A beautiful, honest story that teens will relate to, with a strong focus on family, friends, and tolerance. It's even more impressive that this is Sarah's debut novel – I can't wait to see what she comes up with next!
– Mandee, Vegan YA Nerds
"Every reader can learn a lot from the issues covered. This is thoughtful storytelling at its best."
– Steph Little, The Book Salon
"It's a bit like a modern To Kill a Mockingbird by Harper Lee" – Dolly magazine 
"A very endearing YA read which actually had some substance to it. I was very pleased to observe the nuanced way Sarah handled the very incendiary topics covered in the book, such as racism, teenage rebellion and, inevitably, first love."
– Naomie, Goodreads
"Sure to strike a chord with teenagers."
– Canterbury-Bankstown Torch 
"Hate Is Such A Strong Word is a brilliant Australian YA novel. I fell head over heels in love with Shehadie, and despite my 110% Anglo background, I found I could really connect to Sophie and her struggles.
– Georgie, Frangipani Princess
TEACHER RESOURCES
With themes like maturity, peer pressure, family expectations and ethnicity, Hate is such a Strong Word makes a great school text, and is a perfect fit for units on Identity, Belonging, Change, Journeys and Multiculturalism. Sarah is also available for school visits, author events and writing workshops for students. For a list of past events, please check out the speaking page.
THE LAUNCH
https://www.youtube.com/watch?v=1yVDMuBde2g
Hate is such a Strong Word was launched at Sydney's Kinokuniya bookstore by Girlfriend magazine Editor, Sarah Tarca. Over a hundred people gathered to celebrate, enjoy traditional Lebanese food, and of course, get their books signed by the author. You can see photos from the launch here.
LINKS TO PURCHASE
    Dymocks | Booktopia | Angus & Robertson | Google Play | iBooks