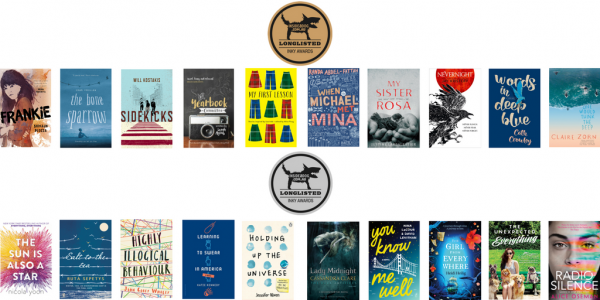 Hello!
Hope your life has been swell. Mine has been OK and mostly quiet (because depression) but I have been eating a lot of crumpets and honey, and buying my favourite Easter eggs before they sell out (the Ferrero Rocher Hazelnut ones, and I don't even like Hazelnut or Ferrero Rocher), and watching The People vs OJ Simpson on Netflix, so even though I am not exactly doing anything of accomplishment, I am proud of myself for getting out of bed.
Despite the downers of my current condition, I have had some lovely experiences of late so I am going to share them with you now.
I got long-listed for a Gold INKY award! This is really exciting because the INKY awards are chosen by actual young people, and when you write books for young people that's a very good thing. I'm longlisted with a bunch of incredible authors, so I feel sorry for the judges who will have to whittle the longlist of 10 down to a short list of 5.
I'm going to Japan! And Hong Kong! I will eat sushi and ramen and dumplings to my heart's content, and hopefully I will see cherry blossoms, and good Lord I am excited (about everything except the plane ride, I hate plane rides) for my first overseas holiday since September 2013. Unfortunately I had to decline appearing a writer's festival because this trip was booked, and I will miss Gabby Tozer's book launch, but still, Japan.
Also, last week I went to Lorraine's for the first time, and I got a few different things, like vanilla toffee choux puffs, which were amazing, and some rum and raisin bread and butter pudding, which was phenomenal. I shared these sentiments with my publisher, Chren, and she told me that the cheesecake at Lorraine's is pretty fantastic, so I went again two weeks later for their homemade marshmallows (delicious) and the cheesecake (did not disappoint). It might just be my new favourite place.
Speaking of gastronomic delights, I have just returned from Flour, Eggs, Water at Tramsheds in Harold Park. For those unfamiliar, it's a pasta joint (hence the name) by the same owners of A Tavola (in Darlinghurst and Bondi). My companions and I got two entrees, a salad, and three pastas, plus drinks. The pastas were pretty incredible, especially the spaghetti cacio e pepe, which I highly recommend. It was packed, and we had popped in sans reservation, but the staff were incredibly accommodating and the service very good.
And speaking of pasta, one of my favourite dishes in all of Sydney is the Casarecce with eggplant, tomato and ricotta at La Disfida in Haberfield. I've shared why I love it so much in the Good Food on Sunday page of The Sun Herald. Check out the web link here.
I haven't managed to write much of anything lately, but last year, I wrote about my life, in the context of the experience of women in my family across decades, continents and social norms. Five generations of Ayoub girls feature in the article (published in Sunday Life just last week), starting with my 100 year old plus great-grandmother, and finishing with my two year old daughter. I'll post about the experience when I am for it, but in the meantime, here's the story.
I'm also stoked to have some bookings in place for speaking gigs, residencies and writer's festivals taking place in Sydney and beyond over the next few months. I used to hate speaking as a student, but it's definitely one of the aspects of being an author that I have really enjoyed, and it's one part that has not really been affected by my illness. I'm hoping to spend more time organising panels with other authors, where I can do more moderating and less speaking about my own work. No matter how much I love the creative writing part, it's the asking questions part that drew me to journalism to begin with that makes my heart sing.
Given that I have had a hard time getting stuck into my TBR pile of late, I've been reading a lot of material on the web. I really resonated with Lauren Sams' latest piece on writing (from her excellent newsletter, Wine Time, which I subscribe to and which I heartily recommend), mostly because everything she says is true, but also because everything I am feeling now makes me realise that all that fretting I did about my writing career (that I hardly fought for, apart from meeting my deadlines) is not as important as my health. I am addicted to reading the Money Diaries on Refinery29 and I adored this short post on womankind by TheUndone . There's also been so much in the news on footballers (specifically NRL players) and their treatment of women that has been excellent discussion material in my journalism classes. I am looking up profiles of people like Emily Weiss and Jo Rodgers (the former the woman behind Glossier, a minimalist beauty range born in NYC; the latter a literary agent-turned-writer who has moved to London from the USA and has the dreamiest Instagram account ever, filled with foods I salivate over, swoony London home fronts and trips to faraway destinations in her job as a contributor to Vogue – she doesn't compromise on her captions either) to draw inspiration from. Thanks to the interweb I have also found merit in my fatal flaws, found another reason to love Rue De Bac in Paris (the other is grand department store Le Bon Marche) and laughed out loud a billion times over the BBC-conference-call-with-a-Dad video and loved it's steeped-in-reality Kiwi spoof follow-up.
I'm trying to be less of a maximalist but I couldn't resist these cute little egg cups at Bed, Bath and Table. My daughter loves boiled eggs and soldiers for breakfast so I'm glad I have a cute way for dishing them up to her on special days.
Oh and I went to see Bell Shakespeare's Richard III at the Opera House a couple of weeks back, and even though I hate the play, I loved seeing Kate Mulvany playing the villainous lead.
Finally, late last year I sold the audio rights to both my novels which means they're now available for purchase through Bolinda Audio.
Before I wrap up, I also wanted to flag this crowd funding campaign to help my friend and mentor Rachel Hills get the play inspired by her fantastic book, The Sex Myth, off the ground. There are only ten days remaining so if you can lend a hand, now's the time to do it.
That's it from me. I started writing this post on February 25th, and it's now March 20th, and I don't even want to do the math because of how bad that is. But it's done, and I feel a sense of accomplishment, which means I can now enjoy a bowl of homemade minestrone (leftover from last night) and a slice of garlic bread (because carbs are my life) before I have to start thinking of packing and laundry and what to cook for dinner tonight.
Over and out.