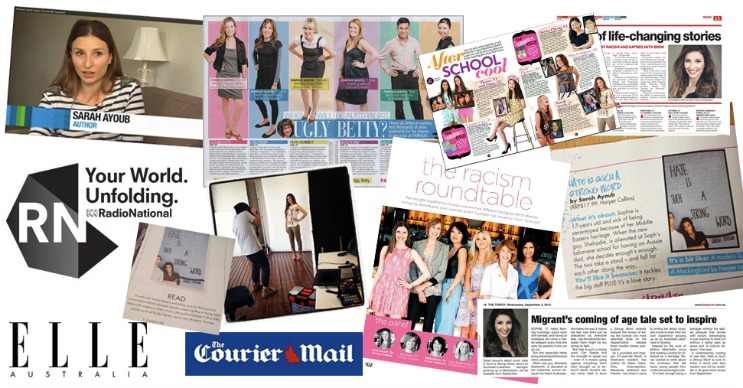 From my first foray in the press at the age of five, when I was plucked from my class of 33 to sing a traditional Mother's Day folk song on Lebanese radio (that says more about me than classmates, and I believe it says NERD!), to the publishing of my first novel, Hate is Such a Strong Word, the press across a variety of mediums has been very gracious in hosting my smiley, dorky face on their screens, airwaves and pages.
I've spoken about pop culture, the Middle-Eastern community in Australia and my work as a writer on a variety of radio stations, showed off my 'After School Cool' in Girlfriend Magazine and dished the real dirt on racism in Australia as part of a panel for CLEO. My novel Hate is Such a Strong Word got a To Kill a Mockingbird comparison in DOLLY and was called a debut with substance by the schmancy peeps at Sunday Life. ELLE magazine asked me to reveal my inspirations for the novel and FAMOUS selected me as a top six finalist in their nationwide campaign to find the perfect intern.
This is just a selection of the love, and I am ever so thankful.